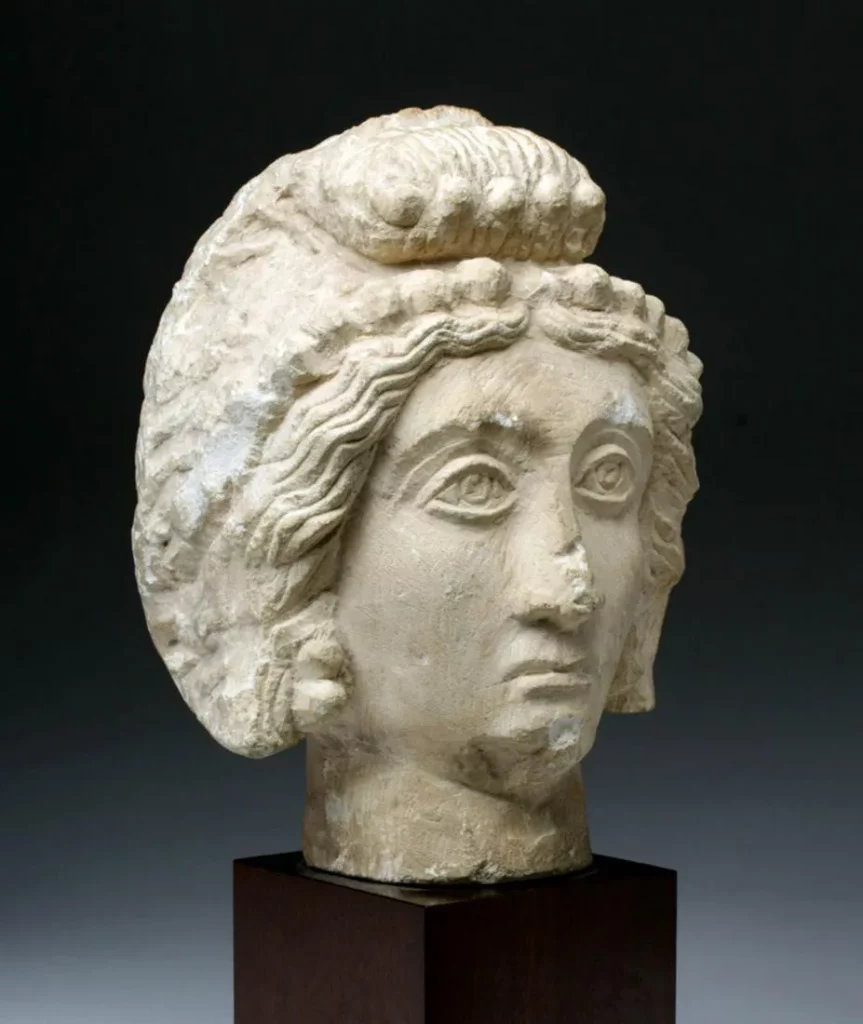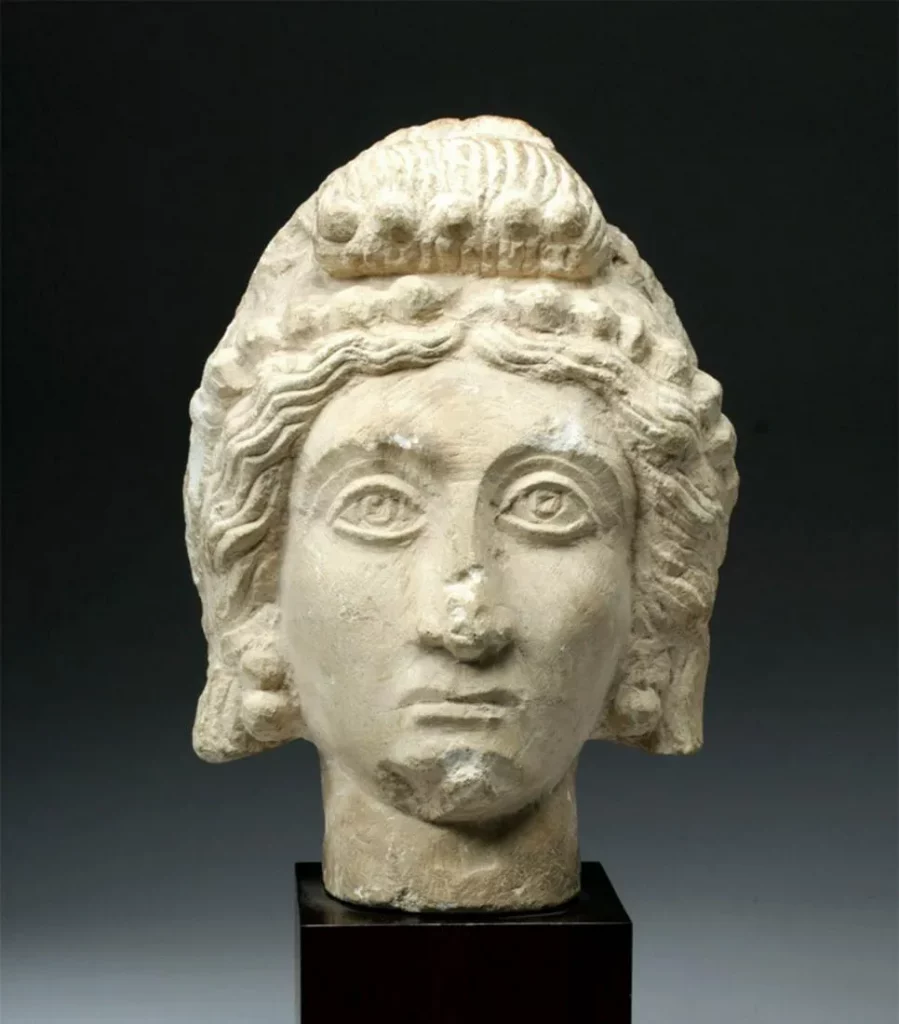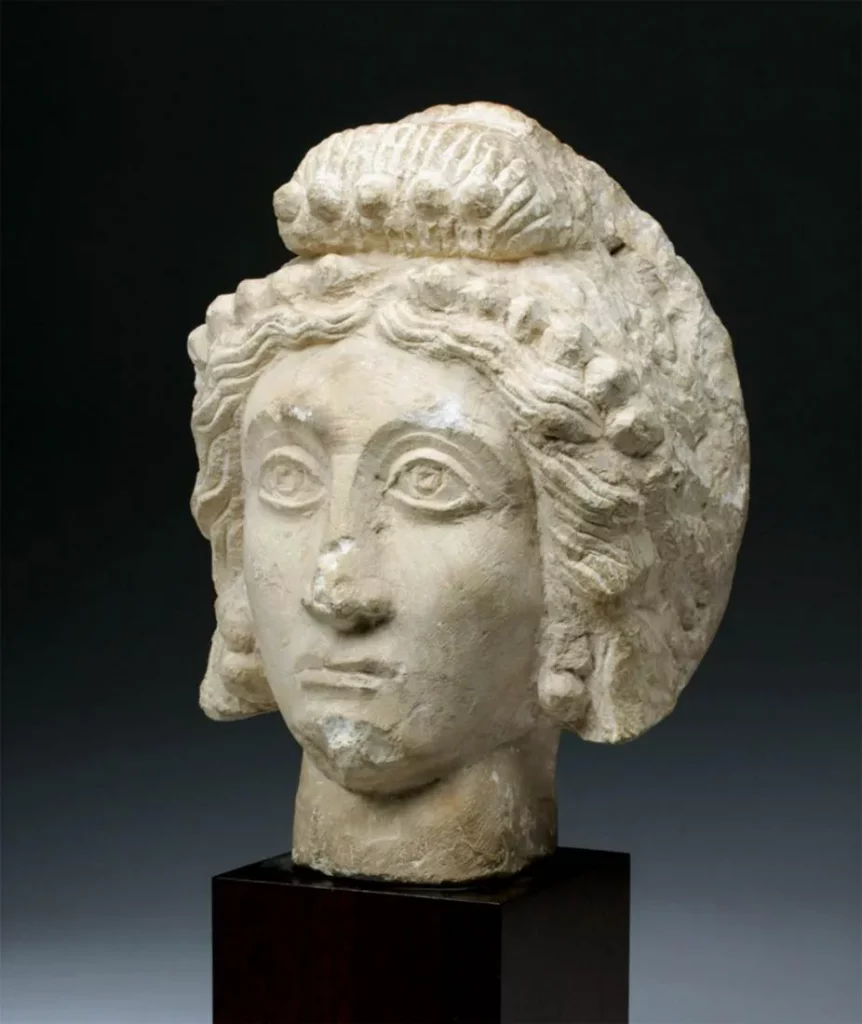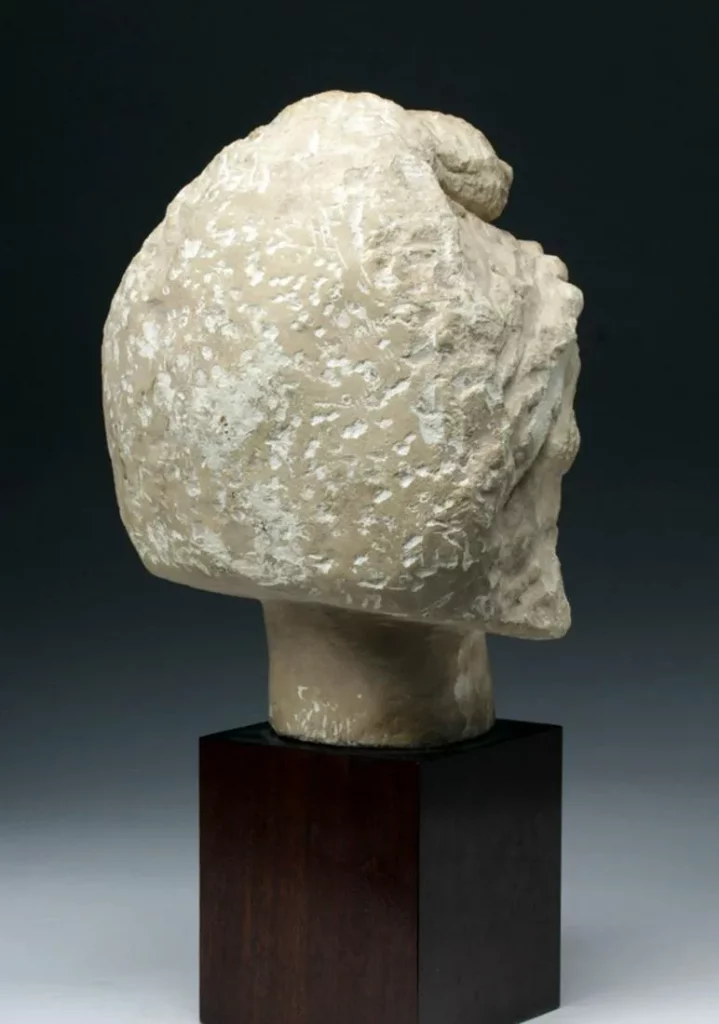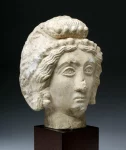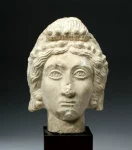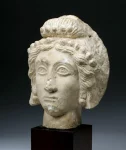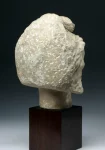 Starting: $15,000
Palmyrene / Roman Period Limestone Head of A Female:
Near East, Palmyra, Roman Imperial Period, ca. 2nd to 3rd century CE. A finely carved Palmyrene limestone head of a youthful female beauty, her quixotic visage comprised of large almond-shaped eyes with generous upper lids, incised irises, and petite depressions for pupils, framed by elegantly arched brow line that merges seamlessly with an aquiline nose, a bow-shaped closed mouth below, apple cheeks, and smooth facial planes – topped by an elaborate coiffure of incised wavy tresses adorned with a 'beaded' hair ornament or crown and lovely drop earrings. Size: 7.375″ W x 10.875″ H (18.7 cm x 27.6 cm); 15.875″ H (40.3 cm) on included custom stand.
A distinct regional version of Roman funerary busts emerged in Palmyra. The figures and their elaborate ornamentation exemplified an attractive fusion of Western and Eastern influences. This Palmyrene lady does not show evidence of paint on the surface; however, given the polychromy of the famous "Beauty of Palmyra" (ca. 190 to 210 CE, Ny Carlsberg Glyptotek, Copenhagen) it is possible that she was once considerably less subdued than she appears today. This said, it is also possible that she was not intended to be painted.
Palmyrene sculpture was made from a stone that is largely nonreflective – usually limestone as we see in this example; however, the ancient Palmyrene sculptors excelled at sharp, angular chisel work that resulted in strong patterns which made for dramatic silhouettes and shadows. Just imagine this piece in its dark, shadowy tomb environment – lit by candlelight so that its intricate surface patterns would come to life as it were, the smooth facial contours contrasting with the darkness surrounding it – quite a vision indeed!
A Palmyrene limestone female head sold at Sotheby's, New York in 2015 for $37,500, and a Palymrene limestone male head sold at Christie's New York in 2008 for $32,500.
Provenance: private Denver, Colorado, USA collection; ex-Hisperia Gallery, Philadelphia, Pennsylvania, USA; acquired in 1964
All items legal to buy/sell under U.S. Statute covering cultural patrimony Code 2600, CHAPTER 14, and are guaranteed to be as described or your money back.
A Certificate of Authenticity will accompany all winning bids.
PLEASE NOTE: Due to recent increases of shipments being seized by Australian & German customs (even for items with pre-UNESCO provenance), we will no longer ship most antiquities and ancient Chinese art to Australia & Germany. For categories of items that are acceptable to ship to Australia or Germany, please contact us directly or work with your local customs brokerage firm.
Display stands not described as included/custom in the item description are for photography purposes only and will not be included with the item upon shipping.
#129008
Condition
Losses to chin, nose, lips, brow line, neckline, headdress / hairline as shown. Verso shows a chisel pecking marks. Overall, a remarkable example.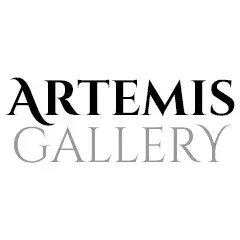 Live Auction
Start: May 19, 2022 10:00 EDT