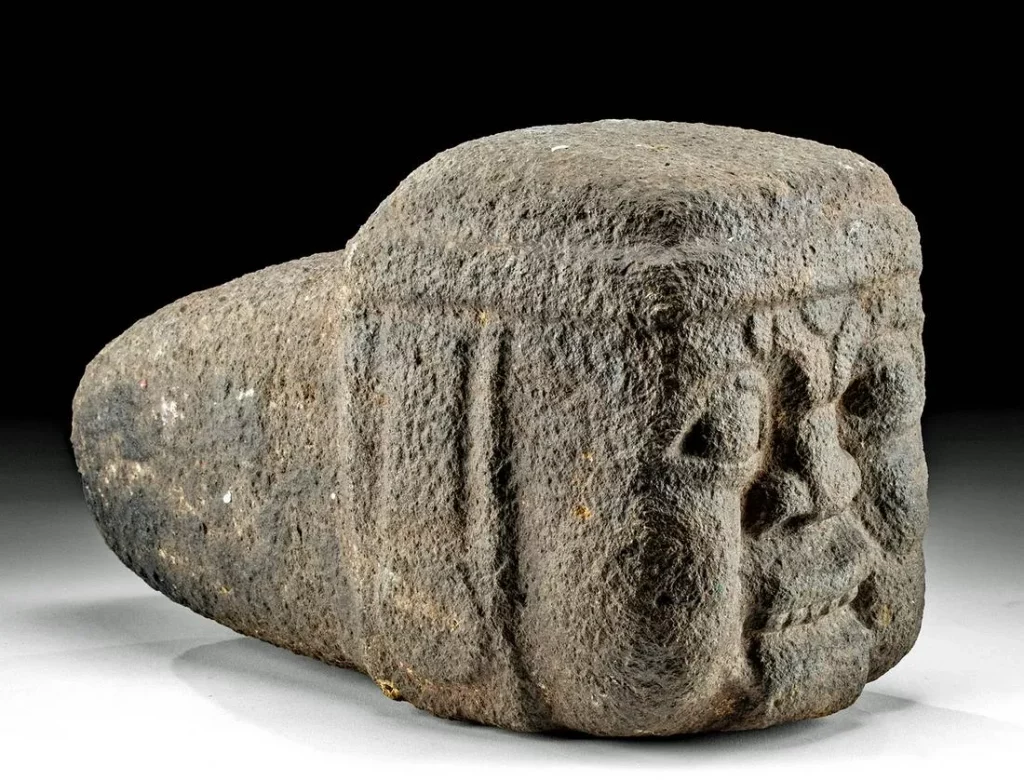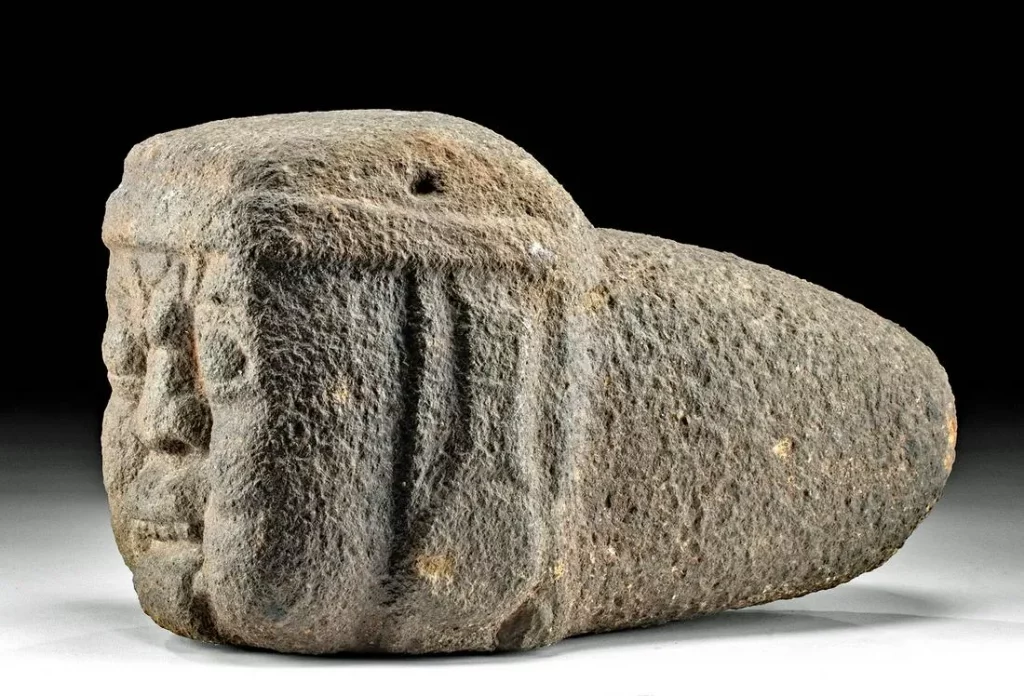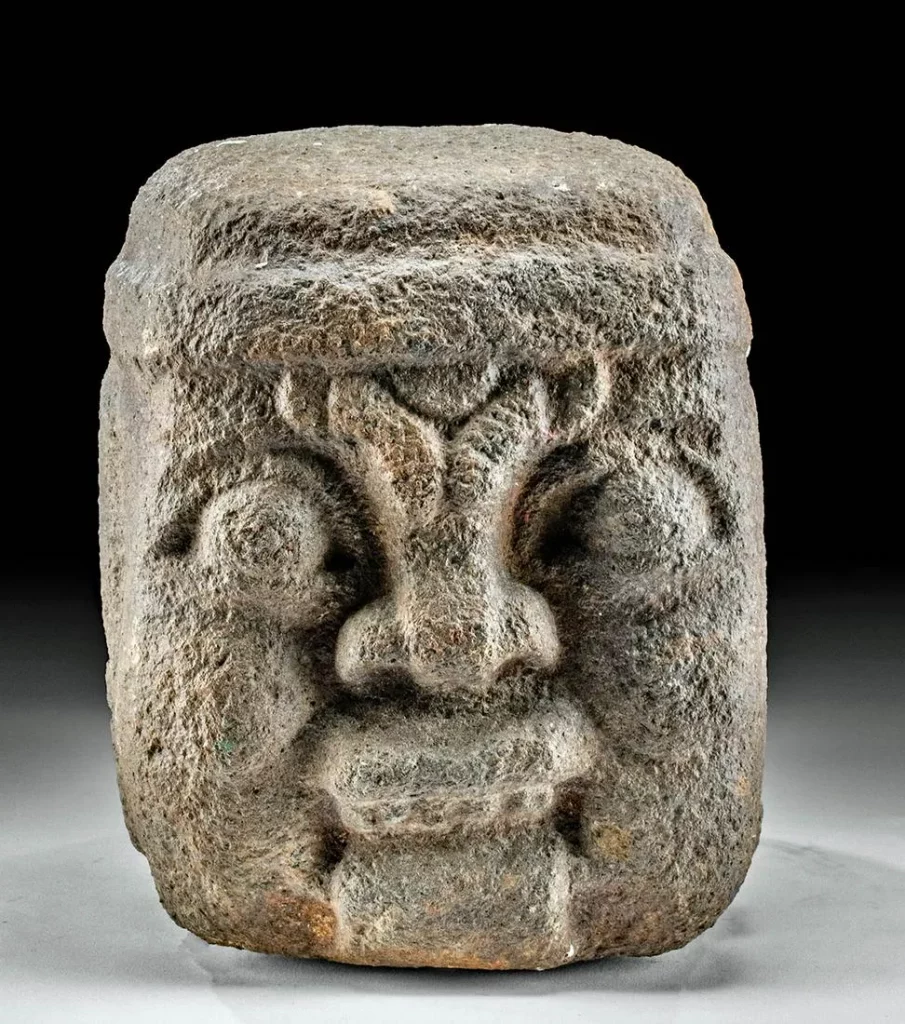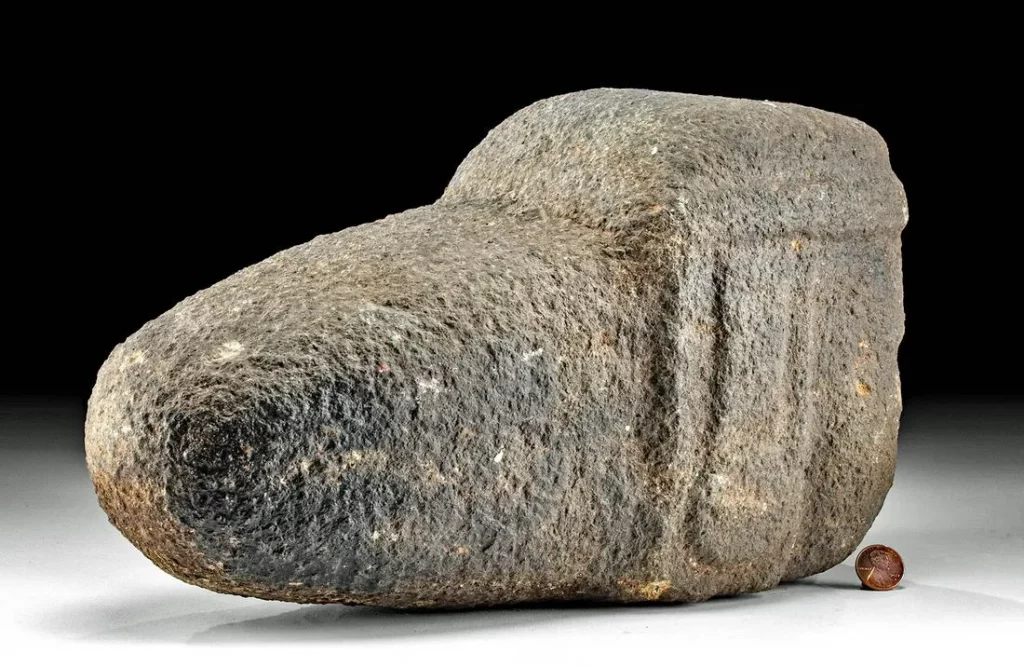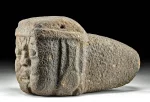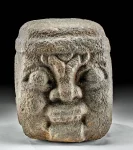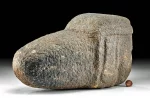 Starting: $14,000
Olmec Volcanic Stone Tenon – Cuboid Form w/ Face:
Pre-Columbian, Southern Mexico to Guatemala, Olmec, ca. 900 to 600 BCE. An impressive tenon of sizable form, skillfully hand-carved from porous volcanic stone of any earthy gray hue. The tapered conical body gradually expands to present a cuboid face or maskette on the front. The ancient visage gazes outward from bulbous, almond-shaped eyes beneath arching brows that flank a flat nasal bridge above broad nostrils. His rectangular mouth is held open, exposing a top row of square teeth and an extended tongue that stretches outward to cover his chin. The full, fleshy cheeks give the sculpture the appearance of a child or baby. A flat headdress surrounded by a slender headband caps the fascinating face, held in place by a head strap that ends in a large, relief circle on each side. Size: 11.9″ L x 5.8″ W x 7.1″ H (30.2 cm x 14.7 cm x 18 cm)
We know that the Olmec settled in areas including San Lorenzo Tenochtitlan, La Venta, Tres Zapotes, Laguna de los Cerros, and La Mojarra; however, their influence impacted the entire Mesoamerican region. In 2005, Neutron Activation Analysis and petrography was used to demonstrate this impact via the widespread existence of Olmec ceramic vessels. Scholars suspect that other groups equated the Olmec style with elite status given the exchange and emulation of Olmec artifacts throughout Mesoamerica. It is also believed that the Olmec invented the famous Mesoamerican ballgame prevalent among the later Maya as well as other cultures in the region and may have also invented religious entities such as the feathered serpent and the rain god, which would continue in subsequent cultures.
While difficult to completely understand their belief system given that the Olmec were pre-literate, scholars theorize that their famous monumental stone heads, which can weigh up to forty tons, may have been erected to honor ancestors or rulers. The smaller figures and tenons like this example are thought to represent totems or divinities. The artistry and technique of Olmec sculptural works is remarkable given what little technology that was available to them as well as the dearth of earlier works to reference for inspiration.
Tenons like this example were set into wall mortises with other, similar tenons. Aztec public architecture featured many symbolic and artistic elements, many carved from stone, that reinforced their cosmology and religious rituals.
This piece has been searched against the Art Loss Register database and has been cleared. The Art Loss Register maintains the world's largest database of stolen art, collectibles, and antiques.
Provenance: ex-Les Margulis, New York, USA, acquired November, 1998; ex-The Lands Beyond Gallery, New York City, New York, USA
All items legal to buy/sell under U.S. Statute covering cultural patrimony Code 2600, CHAPTER 14, and are guaranteed to be as described or your money back.
A Certificate of Authenticity will accompany all winning bids.
PLEASE NOTE: Due to recent increases of shipments being seized by Australian & German customs (even for items with pre-UNESCO provenance), we will no longer ship most antiquities and ancient Chinese art to Australia & Germany. For categories of items that are acceptable to ship to Australia or Germany, please contact us directly or work with your local customs brokerage firm.
Display stands not described as included/custom in the item description are for photography purposes only and will not be included with the item upon shipping.
#167941
Condition
Expected nicks and abrasions, commensurate with age. Otherwise, intact and excellent with light earthen deposits in areas.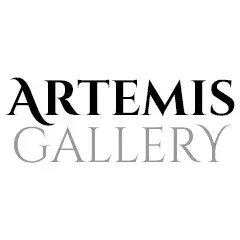 Live Auction
Start: May 19, 2022 10:00 EDT