Starting: $3,750
Pre-Columbian, North Coast Peru, Moche, ca. 100 to 300 CE. A striking gold roundel (83% gold, equivalent to ~20K) featuring a skillfully executed openwork relief depicting Ai Apaec as a Jaguar Deity Decapitator holding a human head in one hand and a tumi knife in the other, this composition surrounded by a ring of attached circular gold danglers that would have reflected the sun and shimmered with dappling light. Size: 2″ in diameter (5.1 cm); 4.25″ H (10.8 cm) on included custom stand. Gold quality: 83% gold or equivalent to ~20K.
The Moche Decapitator God was one of the most important guises of Ai Apaec – the primary deity of the Moche. Here he is depicted as a ferocious half-human, half-jaguar mythological being with a bloodthirsty open mouth presenting sharp fangs, flaring nostrils, fur or a plumed headdress upon his head, and large, boldly delineated eyes projecting a fierce countenance. He holds a tumi or ritual sacrificial knife in his right hand and the head of his latest victim in his left.
At the peak of the Moche societal heirarchy warrior-priests reigned supreme. These men presided over sacrificial rituals in which prisoners of war were decapitated and dismembered. Following this ceremony the victim's blood was voraciously imbibed. Although the Moche were an illiterate culture, their art provides valuable information about this society that existed prior to Inca expansion, including not only its advanced pottery techniques and metalwork, but also its intriguing political and cultural practices as we see revealed in this piece. A fabulous example of an early Moche goldwork with one of the fiercest representations of Ai Apaec as The Decapitator God we have ever seen!
Provenance: private Hawaii, USA collection; ex-Everson Museum of Art, Syracuse, New York, USA
All items legal to buy/sell under U.S. Statute covering cultural patrimony Code 2600, CHAPTER 14, and are guaranteed to be as described or your money back.
A Certificate of Authenticity will accompany all winning bids.
We ship worldwide and handle all shipping in-house for your convenience.
#148438
Condition
Missing one dangler; others show minor indentations. Otherwise the form is excellent, and the gold has developed a lovely warm patina. Not able to weigh, since attached to custom, museum-quality stand.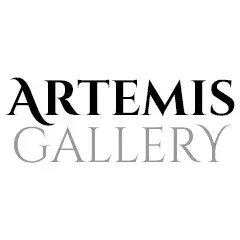 Live Auction
Start: Jan 30, 2020 10:00 EST