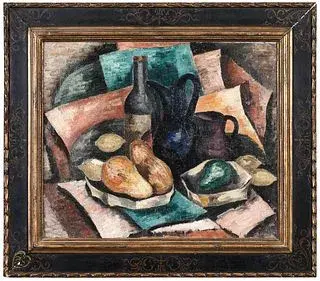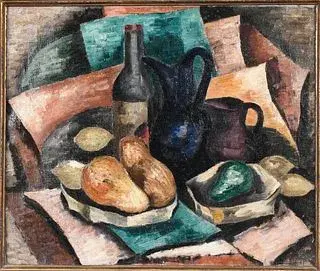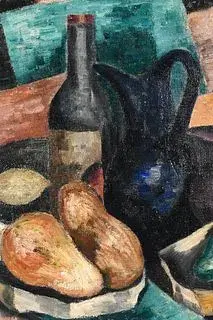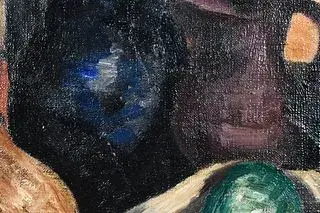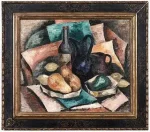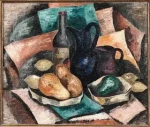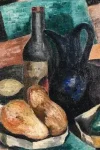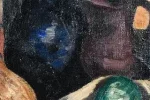 Winning Bid: $176,400
Marsden Hartley:
(American, 1877-1943)
Still Life with Bottles and Pitchers, 1923, signed on original backing board verso, "Marsden Hartley", oil on coarse canvas, 21-1/2 x 25-1/2 in.; period carved gilt wood frame, 29-1/2 x 33-1/2 in.
Note: Exhibited: American Federation of Arts, 1951?52; New York, Bertha Schaefer, 1953; Duluth, Minnesota, Tweed Gallery, 1953; Significant American Moderns, Norfolk Museum of Arts and Sciences, Norfolk, Virginia, March 1953, as Still Life With Bottles and Pitchers, lent by the Bertha Schaefer Galleries, New York, label verso. This lot is accompanied by a facsimile of the exhibition catalog, which can also be seen as a detail photograph on our website; University of Mississippi, 1954; Richmond, University of Virginia, 1954; New York, The Knoedler Galleries, Marsden Hartley: A Selection of His Paintings and Drawings of the Twenties and Thirties, January 9?27, 1968, no. 4 (dimensions reversed)
According to the consignor, this painting was exhibited at Sid Deutsch Gallery, New York, n.d. (The gallery was in business from 1982 through 2005).
Bears label verso: "Still Life with Bottles and Pitchers 1923/Property of Mrs. Charles P. Kuntz, Bronxville, NY"
This painting is accompanied by a letter discussing this work from art historian Dr. Lisa N. Peters.
This painting is included in the
Marsden Hartley Legacy Project: Complete Paintings and Works on Paper, Bates College Museum of Art, Lewiston, Maine
Provenance: Adelaide Shaffer Kuntz (1895?1966), Bronxville, New York (Mrs. Charles P. Kuntz, Hartley?s friend and patron) (label verso); at Bertha Schaefer Galleries, New York, NY, by 1953; From Adelaide Kuntz to her daughter, Frances Elizabeth Kuntz Malek, New York and Clearwater, Florida (1921?1995); at M. Knoedler & Co., New York, 1967, (inscribed verso with Knoedler inventory number: CA-7465); Allan Bluestein, Washington, D.C., 1968; Sotheby Parke-Bernet, New York, American Impressionist & 20th Century Paintings, Drawings & Sculpture, December 10, 1981, lot 140; Private collection, New York City and Palm Beach
Condition
original stretchers and tacking edge, some warping and alligatoring verso, surface dirt layer, crackle, approximately 7 small areas of paint loss at or near edges, some small areas of retouch, mostly near edges and right side; frame with wear commensurate with age
see full conservation report online from Painting Conservation, Asheville, North Carolina.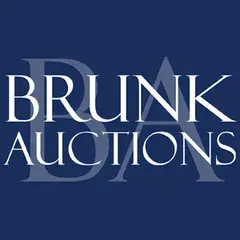 Live Auction
Start: Mar 26, 2022 09:00 EDT