Starting: $15,000
Lifesize+ Roman Basalt Head of God Apollo:
**This is an oversized piece that may require special shipping. Please inquire for a quote prior to bidding.Rome, Imperial Period, ca. 3rd century CE. A larger-than-life head of the god Apollo, skillfully hand-carved from basalt. The youthful god of music, the sun, light, poetry, prophesy, healing and more is depicted in an idealized manner with "pretty boy" features – huge, almond-shaped eyes with heavy lids, a defined nose, a prominent philtrum, bow-shaped, pursed lips – on that elegant, oval face that tapers to a soft, gently jutting chin. Supported by a broad neck, the divine visage is crowned by a thick waves of hair that dramatically flow upwards in a halo-like manner, topped by classic topknot; reminiscent of the famous Apollo Belvedere (ca. 120 to 140 BCE). Size: 10.75″ L x 10.5″ W x 14.5″ H (27.3 cm x 26.7 cm x 36.8 cm)
This piece has been searched against the Art Loss Register database and has been cleared. The Art Loss Register maintains the world's largest database of stolen art, collectibles, and antiques.
Provenance: private New York, USA collection; ex-private United States collection, acquired in the 1960s, imported in the late 1980s
All items legal to buy/sell under U.S. Statute covering cultural patrimony Code 2600, CHAPTER 14, and are guaranteed to be as described or your money back.
A Certificate of Authenticity will accompany all winning bids.
PLEASE NOTE: Due to recent increases of shipments being seized by Australian & German customs (even for items with pre-UNESCO provenance), we will no longer ship most antiquities and ancient Chinese art to Australia & Germany. For categories of items that are acceptable to ship to Australia or Germany, please contact us directly or work with your local customs brokerage firm.
Display stands not described as included/custom in the item description are for photography purposes only and will not be included with the item upon shipping.
#164986
Condition
Fragment of a larger piece. Repairs to base with restoration over break lines. Minor areas of loss on both side of top bun and tuft of hair on proper right side. Natural perforations to stone with small areas of loss to back of head, as shown. Abrasions, softening of detail, and nicks throughout, commensurate with age. Otherwise, very nice with earthen deposits throughout.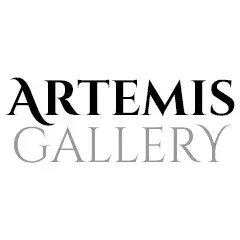 Live Auction
Start: Dec 02, 2021 10:00 EST
End: Dec 03, 2021 11:27 EST