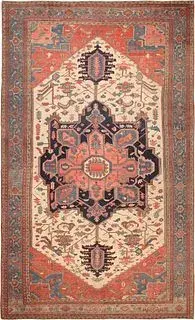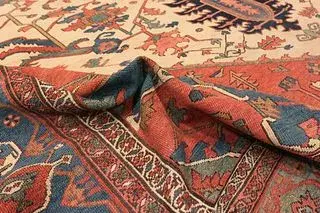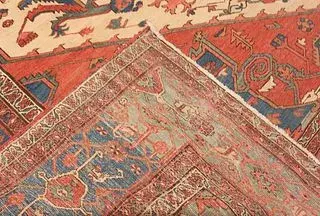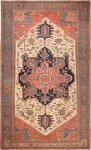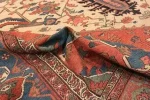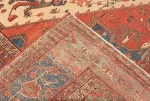 Starting: $15,000
Large Antique Persian Serapi Rug 19 ft 1 in x 11 ft 10 in (5.82 m x 3.61 m):
Persian Serapi rugs have a tribal flavor that works well in many contemporary design styles. The designs of Persian Heriz Serapi rugs are geometric, which is perfect for today's style trends. This gorgeous antique rug was created around the turn of the 20th century and has the charming tribal elements that have made these Persian rugs popular throughout the years.
This year's style trends are about taking risks and combining colors, shapes, and textures to create dynamic contrast within the space. This idea of contrast can also be used to subdivide a larger space without having to use screens or walls. The bold colors of Serapi and Heriz rugs make them perfect for creating a design that is fresh and contemporary yet reflects ancient traditions.
Boho chic is a modern style that has been around for quite some time and continues to evolve. Now, Boho chic is taking on a more natural feel, yet tribal accents remain the foundation of this popular style. You can easily achieve an updated Boho chic style by adding some large-scale architectural plant features, large-scale baskets, and natural elements throughout the space.
Persian rugs are finding their way into rooms from contemporary to traditional. Serapi rugs were the foundation of Victorian or turn-of-the-century homes, and this one would be perfect for a room full of antiques, or perhaps, a mixture of antiques and modern pieces. The beauty of Persian rugs is that they can serve as a bridge between different stylistic elements in the space. One of the design trends that is on-point this year is creating a space that reflects your unique personality and style. This area rug will allow you to show your tribal and eclectic side and all of the other sides that make you uniquely you.
Condition
Request Condition Report
Full condition report on request. Please contact our rug experts at [email protected] or call us for any questions you may have at 212.545.8029.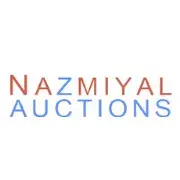 Live Auction
Start: Jun 12, 2022 11:00 EDT