Starting: $5,000
Ancient Egypt, New Kingdom, 18th to 20th Dynasty, ca. 1549 to 1077 BCE. An incredible lower fragment of a meticulously detailed figure, perhaps depicting a man born of wealth or royal lineage, that is hand-carved from finely speckled granite with mottled hues of black, silver-grey, tan, and hints of fuchsia. The man has large hands and feet with delineated fingers and toes, sits on an integral stepped seat, and wears a pleated, knee-length skirt while clenching his right hand atop his thigh. The lower half of the dorsal pillar behind the figure's back features half of a column of inscribed hieroglyphic text that is perhaps part of the identifying name for this ambiguous individual. Size: 5.875″ L x 4.2″ W x 6.375″ H (14.9 cm x 10.7 cm x 16.2 cm)
For a stylistically similar example of a fragmentary seated figure from just earlier in the 17th Dynasty, please see The British Museum, museum number EA69536.
Provenance: private East Coast, USA collection; ex-Norman Blankman collection, New York, USA, acquired in 1961
All items legal to buy/sell under U.S. Statute covering cultural patrimony Code 2600, CHAPTER 14, and are guaranteed to be as described or your money back.
A Certificate of Authenticity will accompany all winning bids.
We ship worldwide and handle all shipping in-house for your convenience.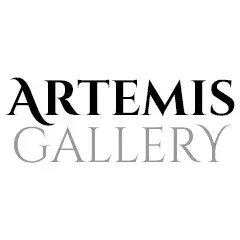 Live Auction
Start: Sep 10, 2020 10:00 EDT