Winning Bid: $29,500
Impressive Roman Marble Female – Pudicitia Type:
Roman, Imperial Period, ca. 1st to 3rd century CE. Larger than life – an exceptional, finely carved marble woman standing contrapposto with her weight on her right leg. Heavy layers of drapery envelop the ancient figure, as her himation falls in billowing folds above her cascading chiton. She stretches her left arm across her body, helping to support her right, which bends upwards, likely to softly touch the hood of her himation. A pair of fingers and a thumb extend from her left hand and lay on her hip. The bashful pose of this statue is known as the Pudicitia type – a Hellenistic style developed from the 3rd to 2nd centuries BCE and named for the goddess of modesty and chastity, Pudicitia. It is also known as the Braccio Nuovo type, after the draped female statue located in the New Wing of the Vatican Museums under accession number MV.2284.0.0. The grandeur of this statue suggests that it may have been part of a public monument. Size: 19″ L x 14″ W x 48.5″ H (48.3 cm x 35.6 cm x 123.2 cm); 77.25″ H (196.2 cm) on included custom stand.
Marble statuary, reliefs, and cladding were ubiquitous in the Roman world, as the remains of the preserved cities at Herculaneum and Pompeii demonstrate. Their sculpture was intended to conjure human vitality, and was inspired by the works of Polykleitos, who became the model to which sculptors aspired in Greco-Roman art as well as later Western European art. Greco-Roman statuary, unlike that of the other Mediterranean civilizations like Egypt, Persia, etc., celebrated the naturalistic human form. This included representations of their gods who appear as if living people, dressed as if they are elite citizens. For example, the famous statue of Hades with Cerberus, his three-headed dog, today on display at the Archaeological Museum of Crete, has an extremely realistic quality despite its fantastical nature, down to the details on each dog head. This suggests an intriguing, more personal relationship with the gods rather than the more abstract or magical portrayals of other contemporary societies.
A pair of similar marble statues with feet still intact have been sold by Christie's New York: the first sold for $64,625 as lot 272 in Live Auction 9666 "Antiquities" on June 8th, 2001, and the second hammered $120,000 as lot 158 in Live Auction 1846 "Antiquities" on June 8th, 2007.
This piece has been searched against the Art Loss Register database and has been cleared. The Art Loss Register maintains the worldÂ's largest database of stolen art, collectibles, and antiques.
Provenance: private West Hollywood, California, USA collection; ex-Westreich collection, Rancho Santa Fe, California, USA and previously on display in Chevy Chase, Maryland, USA, acquired on the London art market and imported into the US in 1985
All items legal to buy/sell under U.S. Statute covering cultural patrimony Code 2600, CHAPTER 14, and are guaranteed to be as described or your money back.
A Certificate of Authenticity will accompany all winning bids.
PLEASE NOTE: Due to recent increases of shipments being seized by Australian & German customs (even for items with pre-UNESCO provenance), we will no longer ship most antiquities and ancient Chinese art to Australia & Germany. For categories of items that are acceptable to ship to Australia or Germany, please contact us directly or work with your local customs brokerage firm.
Display stands not described as included/custom in the item description are for photography purposes only and will not be included with the item upon shipping.
#166694
CONDITION
Missing head, lower part of legs, feet, and proper right hand. Indentations to shoulders from previous display. Stable hairline fissures to bottom, neck, and right wrist. Repairs to neck and right wrist with break lines visible. Expected abrasions and softening of detail, especially on verso, all commensurate with age. Otherwise, excellent.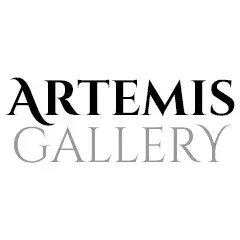 Live Auction
Start: Aug 26, 2021 10:00 EDT
End: Aug 27, 2021 05:51 EDT