Starting: $15,000
Pre-Columbian, Bolivian highlands, Lake Titikaka region, Tihuanaco / Tiwanaku ca. 400 to 900 CE. A very large kero form vessel, carved from a stone of deep chocolate brown-black hues, with a projecting jaguar effigy head emerging from a square plinth on one side, the concave walls extensively incised with a central register of four abstract bird-like forms, surrounded by upper and lower registers of pseudo-glyphs comprised of abstract geometric motifs. The jaguar symbolized power and might throughout the Pre-Columbian world. Warriors, rulers, hunters, and shamans alike associated themselves with this king of beasts, the largest and most powerful feline in the New World. The sculptor of this piece successfully created an expressive countenance on the wild feline; just look at those bulging eyes, gnashing fangs, alert ears, and snarling snout! Size: 12″ W at widest x 8.625″ H (30.5 cm x 21.9 cm)
This piece was examined and certified as authentic by Nicholas Stoetzer of Stoetzer, Inc. Fine Art Services, Miami, Florida, and a report dated September 25, 2017 will accompany the piece when purchased.
Provenance: private Harrisburg, Pennsylvania, USA collection acquired before 1995; acquired from private Argentina collection from the 1950's
All items legal to buy/sell under U.S. Statute covering cultural patrimony Code 2600, CHAPTER 14, and are guaranteed to be as described or your money back.
A Certificate of Authenticity will accompany all winning bids.
We ship worldwide and handle all shipping in-house for your convenience.
#124771
Condition
Expected surface wear with normal scuffs, scratches, and abrasions, a few chips to rim, base, and periphery of square plinth. Loss to right ear of jaguar and tip of its nose.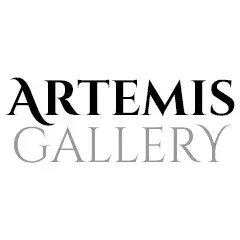 Live Auction
Start: Oct 03, 2019 10:00 EDT