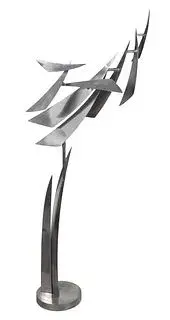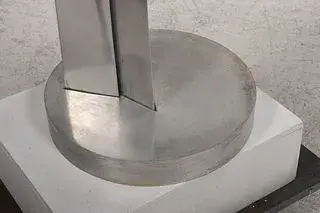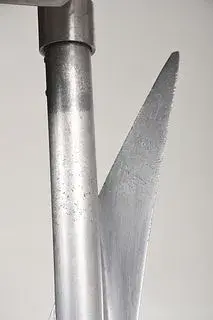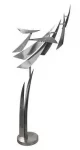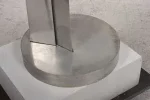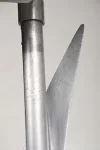 Winning Bid: $42,840
Important Monumental Lin Emery Kinetic Sculpture:
(New York/Louisiana, 1926-2021)
Spirit, 1985, unsigned, polished aluminum, with aluminum cover for base mechanics, approximately 131 in. or 11 ft.
Note: Lin Emery began sculpting at the age of 21, studying under Russian sculptor Ossip Zadkine while living in Paris. She was influenced by natural forms and attempted to recreate the fluid, organic, and often whimsical movements of the natural world in her artwork. In her 75-year career, Emery was honored with countless awards and accolades, including the Lifetime Achievement Award from the Kinetic Art Organization, Opus Award from the Ogden Museum of Southern Art, winner of the International Kinetic Art Exhibition and Symposium, the Grand Prize for Public Sculpture from the Osaka Prefecture in Japan, the New Orleans Mayor?s Award for Achievement in the Arts, and the Louisiana Governor?s Arts Award.
She starts every model from articulated paper which is then translated to polished aluminum.
Provenance: Heath Gallery, New York, 1986 (lot is accompanied by original documents regarding installation, a redacted copy of the original receipt, a letter from the artist and conservation receipts and reports); Estate of Sharon Mills, Chattanooga, Tennessee
Condition
weathered polished surface, some light abrasions, a conservation report dated 2006 from Jim Collins, Signal Mountain, Tennessee, states the piece was restored to working order with "Welded rips an splits in wings and connectors, clean and refurbish bearings, replace main axial with 1/2 " stainless steel rod, straighten and bring back into alignment damaged wings, replace old bumper with new nylon, clean sculpture and paint base" (accompanied by document).
A letter from the artist in 1986 on her letterhead discusses the piece having been wind damaged.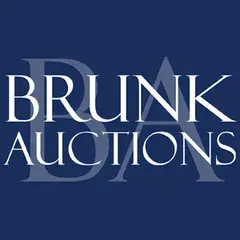 Live Auction
Start: Apr 21, 2022 09:00 EDT