Starting: $4,250
Huge Fossilized Rhinoceros Skull Chilotherium Species:
**Originally Listed At $6000**
Central Asia, China, Miocene, ca. 35 million years ago. A huge example of a fossilized rhinoceros skull, from the species Chilotherium andersoni, with fantastic preservation of the lower jaw which shows the large, tusk-like second incisors, each on either side of a wide diastema – the space/gap between the teeth. Wedged beneath the right maxilla is a small antelope or deer jaw, frozen there in the fossilization process. We see similar jumbling of fossils when a group of animals have been buried together in someplace like a mud pit or a flood, as at the Waco Mammoth National Monument in Texas, USA. This fellow likely perished in a similar event. The Chilotherium genus lived throughout Eurasia from the Miocene to the Pliocene. During this time period, grazing animals like horses, rhinoceroses, and hippos lived in vast grasslands, taking advantage of the new biome. This is an impressive skull from a rarely seen species. Size: 22″ W x 16.5″ H (55.9 cm x 41.9 cm)
Provenance: private Redwood City, California, USA collection
All items legal to buy/sell under U.S. Statute covering cultural patrimony Code 2600, CHAPTER 14, and are guaranteed to be as described or your money back.
A Certificate of Authenticity will accompany all winning bids.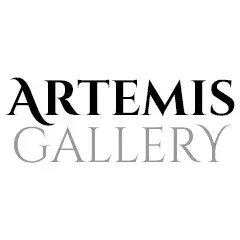 Live Auction
Start: Jul 08, 2021 10:00 EDT
End: Jul 09, 2021 04:40 EDT