Winning Bid: $1,200
Greek Terracotta Head of a Youth Wearing Pilos Helmet:
Magna Graecia, South Italic Colonies, early Hellenistic, ca. 5th to 4th century CE. A handsome mold-made pottery head of a youth wearing a pilos or pileus, the traditional pointed helmet worn by the Hellenistic infantrymen, indicating that he may be the Greek god Hermes (Roman Mercury), part of an equestrian group, or simply a young man. The ancient visage displays almond-shaped eyes beneath an arched brow, a naturalistic nose, and full lips, all capped by flowing waves of hair. Size: 2.875″ W x 4.25″ H (7.3 cm x 10.8 cm); 9.25″ H (23.5 cm) on included custom stand.
The pilos was made traditionally from a single sheet of bronze hammered into a cone, allowing armies to quickly equip large numbers of soldiers. They were in use from around the time of the Peloponnesian War (431 to 404 BCE) to 150 BCE.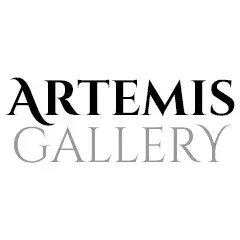 Live Auction
Start: Jun 24, 2021 10:00 EDT
End: Jun 25, 2021 11:18 EDT