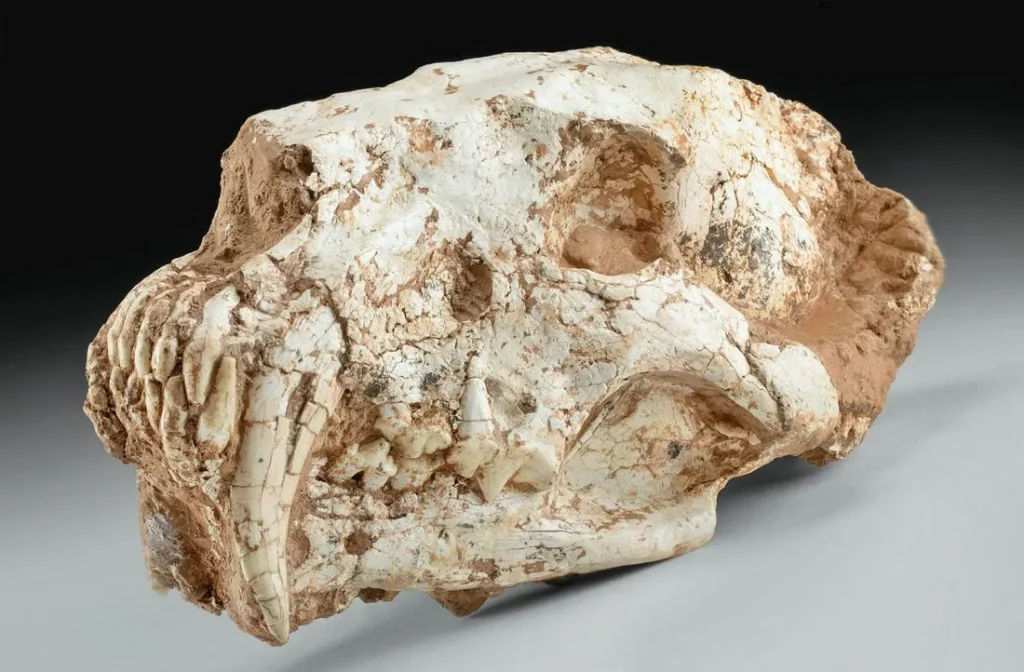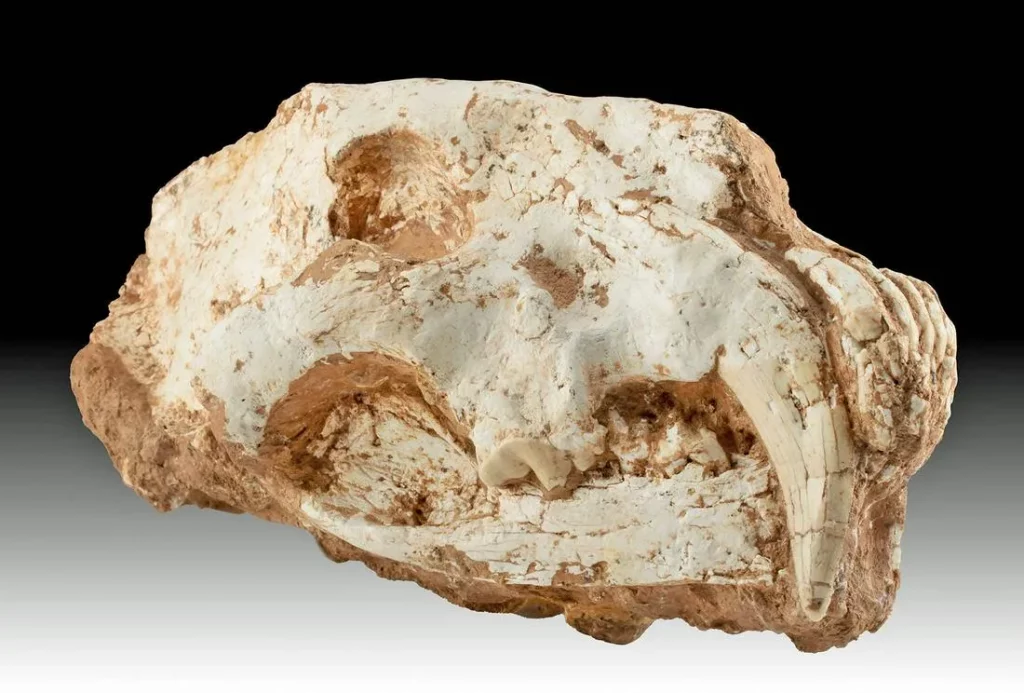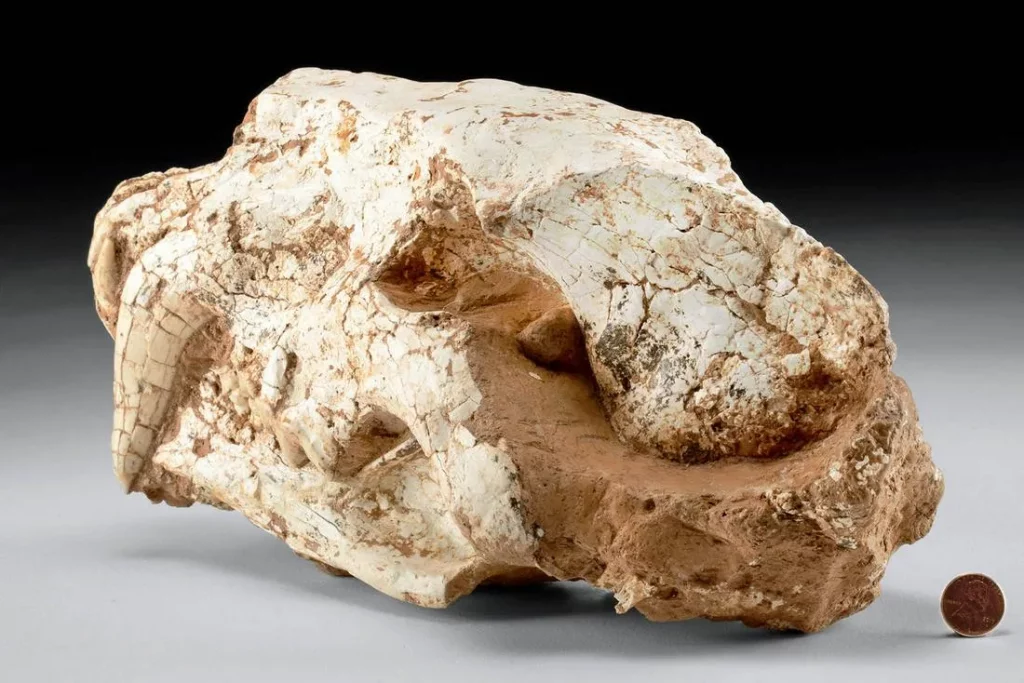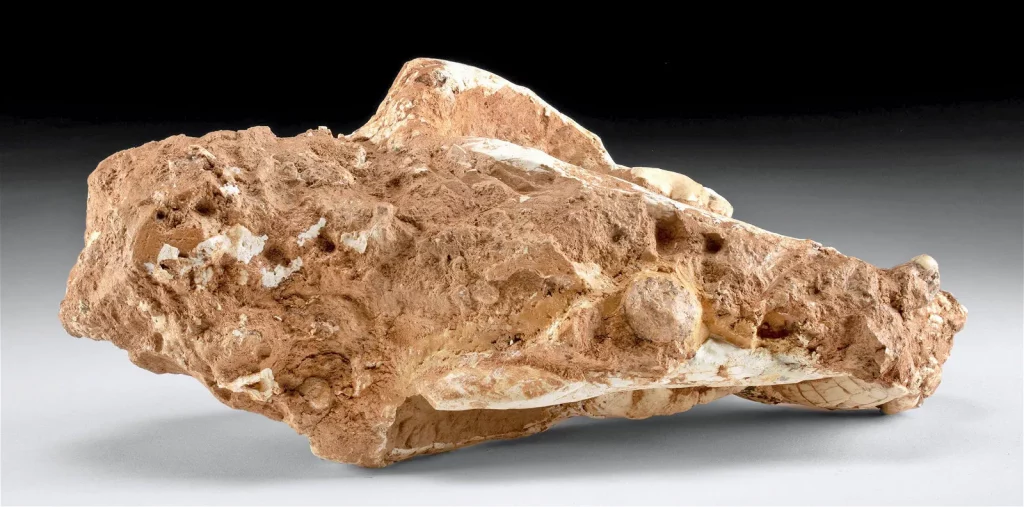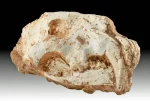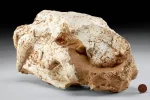 Winning Bid: $17,000.00
Fossilized Saber Cat Skull – Amphimachairodus Giganteus:
Eurasia, Late Miocene, ca. 9.5 to 5.3 million years ago. Meow, wow! This is an incredible fossilized skull from a gigantic prehistoric sabretooth feline fittingly known as Amphimachairodus giganteus! Excellent preservation with the saber teeth on display, overhanging the lower mandible for the ultimate wow factor, and this specimen is likely from a male due to the size and morphology of the teeth. The oversized canines are similar to its famous relative, Smilodon (saber-toothed tiger), and they shared similar hunting habits to modern day lions – using strength and speed to stalk prey and sever their neck arteries with their saber canines. The quality and rarity cannot be stressed enough- the value of these specimens is astronomical from a collector and scientific standpoint! Size (skull): 12.75″ L x 4.75″ W x 6″ H (32.4 cm x 12.1 cm x 15.2 cm); (saber tooth): 3″ L (7.6 cm)
Provenance: private New Jersey, USA collection, acquired from an old collection made prior to 1984
All items legal to buy/sell under U.S. Statute covering cultural patrimony Code 2600, CHAPTER 14, and are guaranteed to be as described or your money back.
A Certificate of Authenticity will accompany all winning bids.
PLEASE NOTE: Due to recent increases of shipments being seized by Australian & German customs (even for items with pre-UNESCO provenance), we will no longer ship most antiquities and ancient Chinese art to Australia & Germany. For categories of items that are acceptable to ship to Australia or Germany, please contact us directly or work with your local customs brokerage firm.
Display stands not described as included/custom in the item description are for photography purposes only and will not be included with the item upon shipping.
#172131
Condition
Professionally prepared. Partial right zygomatic arch. Natural striations and fissures throughout and on teeth.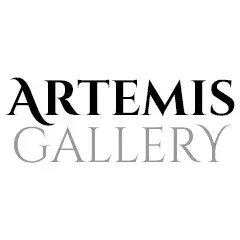 Live Auction
Start: Jul 05, 2022 12:00 EDT