Winning Bid: $3,595
DESCRIPTION
William Draper (American, 1912-2003). "Fields – Bridgehampton, Long Island" oil on canvas, 1967. Signed "Wm. F. Draper" in black on lower right. A large painting presenting a sweeping view of the natural landscape of Long Island's Hamptons on the southern fork of eastern Long Island by American artist William Draper. Bridgehampton is home to the famous Hampton Classic horse show as well as designer boutiques and high-end restaurants; however, Draper has elected to capture the natural beauty of its farms and fields, a place that was once home to the Shinnecock Indians. Draper's skill is undeniable; note how he captures both the vibrant grasses and hay bales of the foreground and the more ethereal quality of the horizon line and blue skies above in this dramatic composition that invites us in with Draper's seductive brushstrokes and palette knife work, and simultaneously beckons our eyes to sweep through the field to the distant horizon line. All is delineated in a brilliant palette of buttery yellows, golden beige, spring green, forest green, sky blue, and whispery white hues. Size: 32″ W x 28″ H (81.3 cm x 71.1 cm) Size: 33.375″ W x 29.5″ H (84.8 cm x 74.9 cm)
William Draper's career spanned seven decades and his subjects included a portrait of John F. Kennedy that hangs in the National Portrait Gallery in Washington D.C. based upon an oil sketch for which the president sat in 1962. Draper was actually the only artist who painted JFK from life. Draper showed at Knoedler, the Graham Gallery, Portraits, Inc., the Far Gallery, The Findlay Galleries (New York, NY) and the Robert C. Vose Galleries (Boston, MA). His work has been included in shows at the National Portrait Gallery and the Corcoran Gallery of Art (Washington, D.C.), The National Academy of Design (New York, NY), The Boston Museum of Fine Arts, (Boston, MA) the Fogg Art Museum, (one of the Harvard Art Museums, Cambridge, MA), the National Gallery, (London), Salon de la Marine (Paris) and in museums in Australia. He also taught at the Art Students League of New York, and received a lifetime achievement award from the Portrait Society of America in 1999.
More on the artist's background: William Franklin Draper was born in Hopedale, Massachusetts on December 24, 1912. A child prodigy, he studied classical piano at Harvard University. He later changed his focus to fine art and studied with Charles Webster Hawthorne and Henry Hensche in Provincetown, Rhode Island. Draper also attended the National Academy of Design in New York and the Cape Cod School of Art in Massachusetts. Then he traveled to Spain and studied with Harry Zimmerman, moved on to France and attended the Academie de la Grande Chaumiere. In 1937, he moved to Boston to study sculpture with George Demetrius and also studied with Jon Corbino in beautiful Rockport, Massachusetts. In 1942, Draper joined the Navy and served as a combat artist when stationed on the Aleutian Islands and in the South Pacific. He observed and painted battle scenes on Bougainville, Guam, Saipan, and other locations, as well as genre scenes of soldiers who were not engaged in combat but rather at work and at play. National Geographic magazine reproduced 25 of his war images in four issues in 1944. In 1945, the Corcoran Gallery of Art in Washington D.C. organized a group exhibition of works by five official war artists, including Draper. That same year the Metropolitan Museum of Art included Draper in an exhibition entitled, "The War Against Japan." Draper was also featured in a PBS television show about combat artists entitled, "They Drew Fire" in May of 2000. After the war, Draper opened a studio on Park Avenue in New York City and continued to not only paint, but also play classical and jazz piano.
Provenance: The William F. Draper Collection, New York City, USA, acquired via descent from the late William Franklin Draper (1912-2003), an accomplished American artist whose career spanned seven decades. Known as the "Dean of American Portraiture," William Draper was the only artist to paint President John F. Kennedy from life, and his oeuvre includes marvelous landscapes from his world travels, military paintings as he was one of only seventeen Combat Artists in WWII, and portraits of illustrious individuals.
All items legal to buy/sell under U.S. Statute covering cultural patrimony Code 2600, CHAPTER 14, and are guaranteed to be as described or your money back.
A Certificate of Authenticity will accompany all winning bids.
We ship worldwide to most countries and handle all shipping in-house for your convenience.
#152536
CONDITION
Painting is in excellent condition. Signed "Wm. F. Draper" in black on lower right. Gallery exhibition label on upper stretcher, left side – one can make out Madison Avenue, N.Y. on the left side of the label. "Draper Estate stamp on verso. Canvas has darkened a bit on the verso. "Property of Maggie Draper Wm. F. Draper" handwritten on verso. Frame is good save slight age wear. Wired for suspension and ready to hang.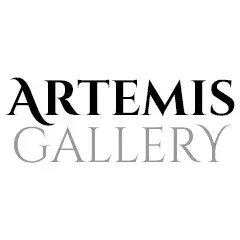 Live Auction
Start: Jun 17, 2021 10:00 EDT
End: Jun 21, 2021 05:06 EDT