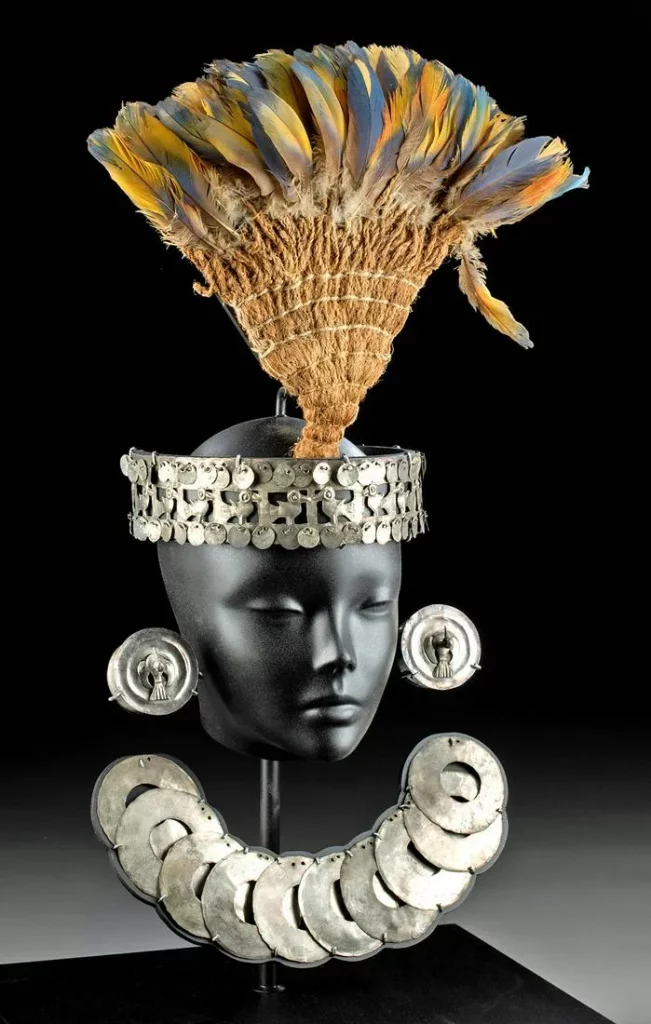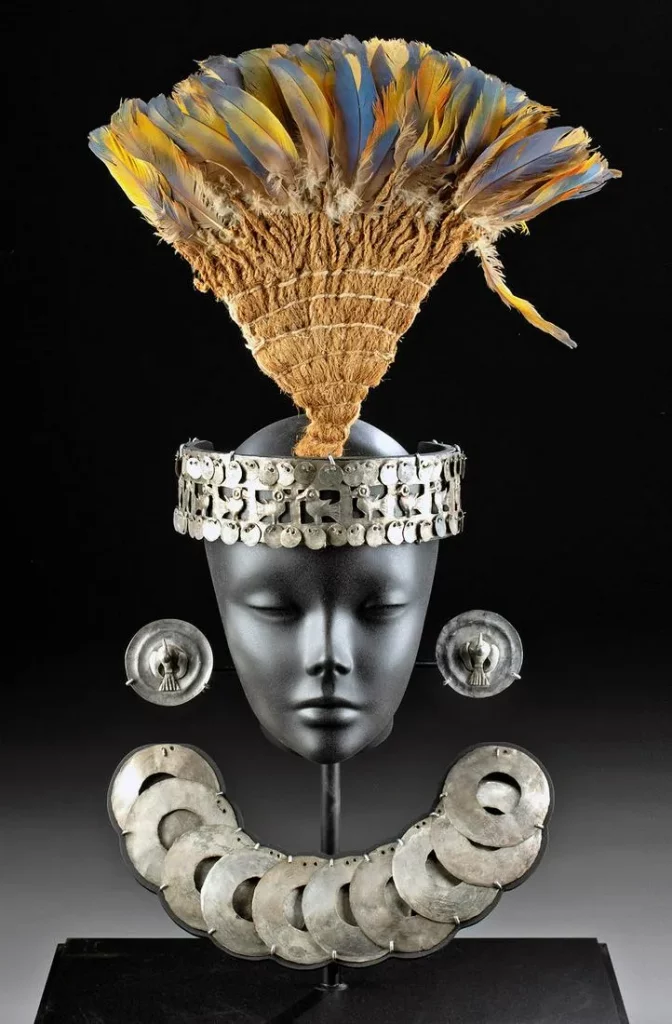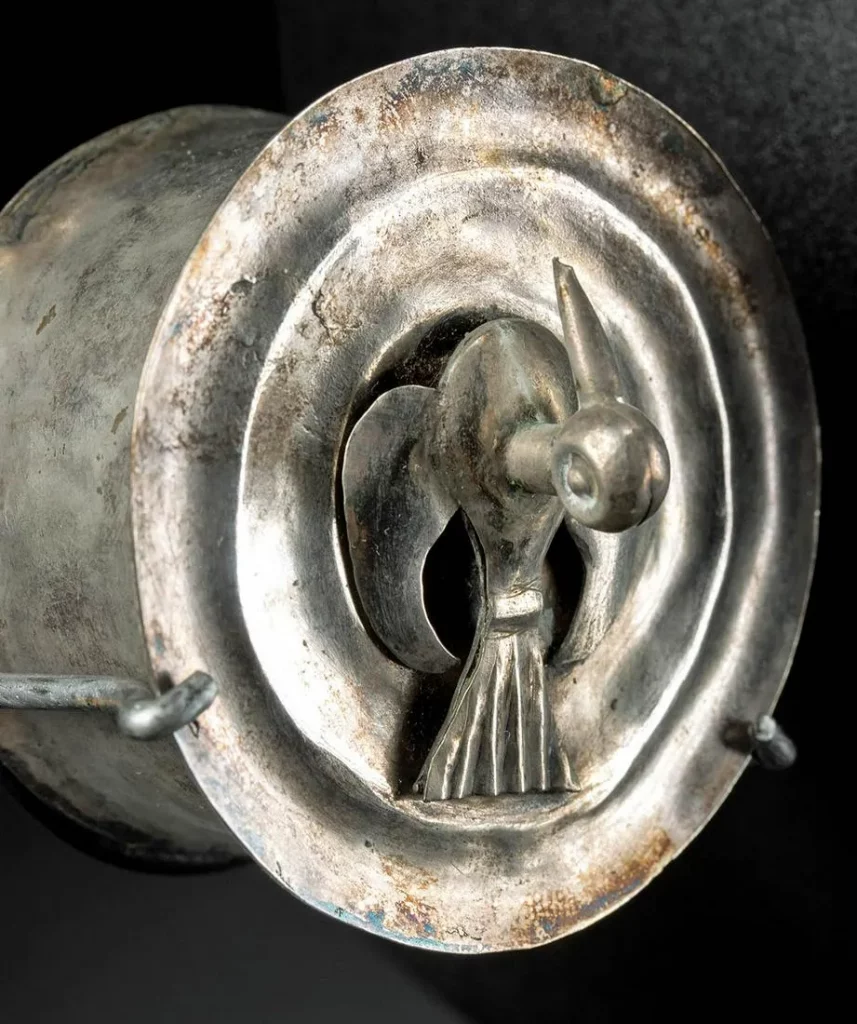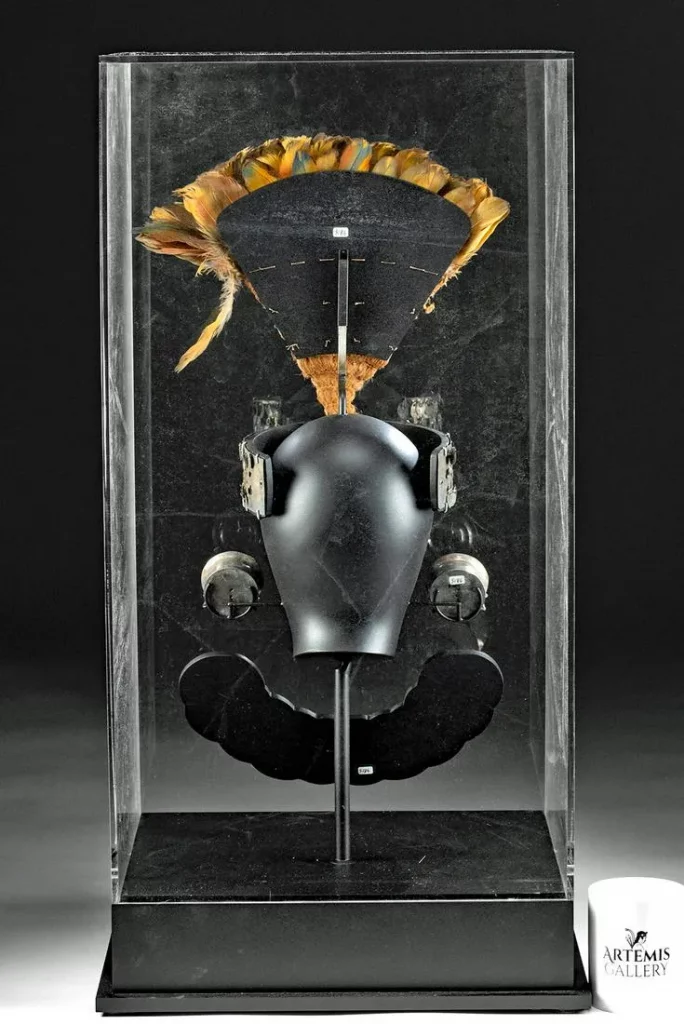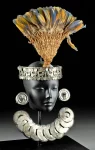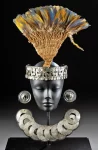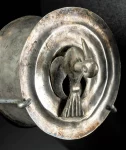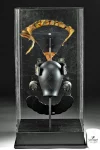 Starting: $10,000
Exceptional Nazca Ensemble Silver Ornaments for Queen:
Pre-Columbian, South Coast Peru, Nazca, ca. 200 to 400 CE. An astounding collection of silver adornments, including a crown, earspools, and pectoral, with a vibrant feather and fiber fan; all fit for a queen or lady of elite power and wealth! The crown is a comprised of a silver band with openwork motifs of birds with dozens of dangling discs suspended from the top and bottom peripheries. The earspools are large cylindrical plugs with bird finials protruding from the center of the rondels. The pectoral is comprised of ten separate, openwork discs that represent the moon. The blue-and-yellow macaw (Ara ararauna) may have supplied the feathers for the fan; each is attached to the handle by short cords tied to the quills, and woven vegetal and wool fibers form the handle. Colorful feathers were prized materials in Andean cultures and used by the elite for clothing and ornaments. Avian motifs and the use of feathers were symbolic in Andean cultures, for birds were sacred animals that could fly between worlds and were messengers for the gods. All is displayed in a museum quality acrylic case that demonstrates how these beautiful pieces would be worn. Size of fan: 10″ L x 9″ W (25.4 cm x 22.9 cm); pectoral: 9″ L x 2.5″ W (22.9 cm x 6.4 cm); silver quality: 53%; earspools: 2″ L x 1″ Diameter (5.1 cm x 2.5 cm); silver quality: 96% to 97.3%; crown: 2″ W (5.1 cm) silver quality: 89% to 91%; size of case: 15″ L x 13″ W x 31″ H (38.1 cm x 33 cm x 78.7 cm)
This piece has been searched against the Art Loss Register database and has been cleared. The Art Loss Register maintains the world's largest database of stolen art, collectibles, and antiques.
Provenance: private Hawaii, USA collection; ex-private Hirsch collection, Germany, 1950 to 1960s
All items legal to buy/sell under U.S. Statute covering cultural patrimony Code 2600, CHAPTER 14, and are guaranteed to be as described or your money back.
A Certificate of Authenticity will accompany all winning bids.
PLEASE NOTE: Due to recent increases of shipments being seized by Australian & German customs (even for items with pre-UNESCO provenance), we will no longer ship most antiquities and ancient Chinese art to Australia & Germany. For categories of items that are acceptable to ship to Australia or Germany, please contact us directly or work with your local customs brokerage firm.
Display stands not described as included/custom in the item description are for photography purposes only and will not be included with the item upon shipping.
#164516
Condition
Missing a couple dangling discs on crown. Minor nicks and tearing to peripheries of pectoral. Pectoral discs are not attached together. Earrings have small nicks to peripheries. Age commensurate wear and patina on all silver pieces. Fraying and losses to tips of feathers. One feather is bent and hanging downwards. Displayed in a museum quality case. Cannot be taken out to weigh silver pieces.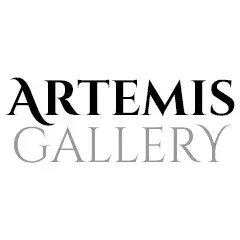 Live Auction
Start: May 19, 2022 10:00 EDT