Winning Bid: $600
Egyptian Faience Bead Necklace w/ Figural Pendant:
Ancient Egypt, Third Intermediate to Late Dynastic Period, 21st to 31st Dynasty, ca. 1070 to 332 BCE. A stunning set of 65 mold-formed faience beads from Ancient Egypt in rich hues of turquois, teal, sky blue, tan, and grey, all strung on a modern strand to be wearable. The dazzling necklace presents beads of varying forms, including melon beads, gridded barrel beads, cylindrical beads, rounded convex beads, figural beads, beads in the form of bunches of grapes, and cylinder disc beads, which gradually increase in size towards the center. A remarkable combination of ancient art and modern style! Size of chain: 19.5″ L (49.5 cm); Size of largest bead: 19.5″ L x 0.675″ W (49.5 cm x 1.7 cm)
Faience was known to the ancient Egyptians as "tjehnet," meaning brilliant or dazzling. It was made by grinding quartz or sand crystals together with various elements including copper oxide which gave the material its distinctive blue-green glaze color when fired. During the New Kingdom Period (ca. 1550 to 1070 BCE), new developments in glass production crossed over into faience craftsmanship and enabled a wider array of colors and shapes when forming compositions. Beads like these examples were perhaps buried with mummies or carried by individuals as apotropaic charms and good luck symbols.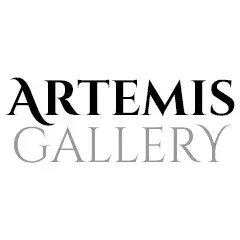 Live Auction
Start: Mar 04, 2021 10:00 EST
End: Mar 05, 2021 12:19 EST