Winning Bid: $3,250
Colima Terracotta Cacique Elder Vessel, Ex-Hollywood:
Pre-Columbian, West Mexico, Colima, ca. 300 BCE to 300 CE. A fantastic and large ceramic vessel in the form of a seated cacique (leader) elder, his eyes closed as if he is in a serene, trance-like state. His face is amazingly sculpted to have deep lines, especially on the forehead and the cheeks; the eyes are sunken, and the man depicted also has a bent nose and prominent chin that give this figure a more individualized, lifelike appearance than most from this culture. He is seated with his hands on his knees, which are bent upwards, exposing his belt, tied tightly around his waist, below a large, drum-like belly. His ears are pierced (and probably once had earrings made from precious metal or feathers), and armlets are incised into his upper arms. A heavy pendant rises in relief from his chest, hanging from a cord sculpted around his neck. Size: 9″ W x 13″ H (22.9 cm x 33 cm)
Colima, located on Mexico's southwestern coast, was during this time part of the shaft tomb culture, along with neighbors to the north in Jalisco and Nayarit. In this culture, the dead were buried down shafts – 3 to 20 meters deep – that were dug vertically or near vertically through the volcanic tuff that makes up the geology of the region. The base of the shaft would open into one or more horizontal chambers with a low ceiling. These shafts were almost always dug beneath a dwelling, probably a family home, and seem to have been used as family mausoleums, housing the remains of many related individuals. Colima vessels such as this one were buried in shaft tombs to protect the deceased and provide sustenance for eternity.
Provenance: private Hawaii, USA collection, before 2010; ex-private T. Misenhimer collection, Hollywood, California, USA, famous Hollywood film producer, collected 1970 to 2008
All items legal to buy/sell under U.S. Statute covering cultural patrimony Code 2600, CHAPTER 14, and are guaranteed to be as described or your money back.
A Certificate of Authenticity will accompany all winning bids.
PLEASE NOTE: Due to recent increases of shipments being seized by Australian & German customs (even for items with pre-UNESCO provenance), we will no longer ship most antiquities and ancient Chinese art to Australia & Germany. For categories of items that are acceptable to ship to Australia or Germany, please contact us directly or work with your local customs brokerage firm.
Display stands not described as included/custom in the item description are for photography purposes only and will not be included with the item upon shipping.
#133795
CONDITION
Repair at neck and on one arm from its upper part to where it meets the knee. Overpainting along restored areas. Repairs are excellently done and almost impossible to see. Nice manganese deposits over the body.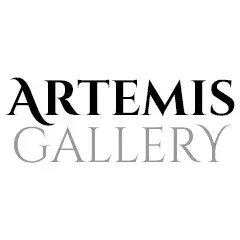 Live Auction
Start: Oct 21, 2021 10:00 EDT
End: Oct 22, 2021 07:33 EDT