Starting: $2,500
Pre-Columbian, West Mexico, Colima, ca. 300 BCE to 300 CE. A wonderful example of one of the most famous artifacts of early West Mexico, a hand-built pottery dog vessel that is highly burnished and covered in deep red slip. The playful canine stands with a plump body atop four bent legs, with a curled tail that hangs low. The dog's head is twisted around nearly backwards, accommodating a spout where its mouth would be if it was facing forward. The head is held high and bears incised, almond-shaped eyes, a squat snout with a petite nose, a pair of enormous ears, and a mouth full of teeth. Size: 14.85″ W x 8.75″ H (37.7 cm x 22.2 cm)
Scholars know of at least two types of Colima dogs, one to be fattened up and ritually sacrificed or eaten and one to serve as a watchdog and healer of the ill. This plump hairless canine, known as a Chichi or Escuintla, is thought to be related to the Chihuahua or the Mexican Hairless also known as the Xoloitzcuintle. The Xoloitzcuintle was named for the deity Xolotl, the God of the Underworld, and was believed to guide the deceased as they journeyed to the afterlife. Colima vessels such as this one were buried in shaft tombs to protect the deceased and provide sustenance for eternity.
Provenance: ex-Barakat Gallery, Beverly Hills, California, USA, acquired prior to 2000
All items legal to buy/sell under U.S. Statute covering cultural patrimony Code 2600, CHAPTER 14, and are guaranteed to be as described or your money back.
A Certificate of Authenticity will accompany all winning bids.
We ship worldwide and handle all shipping in-house for your convenience.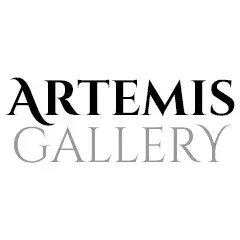 Live Auction
Start: Jul 01, 2020 10:00 EDT