Starting: $2,800
Pre-Columbian, Costa Rica or Panama, Chiriqui, ca. 1000 CE. A fabulous two-part incensario presenting a janus-headed crocodile finial on the lid, so finely hand-modeled and designed with openwork jagged frills, high relief eyes and legs, and numerous circular and cross-shaped perforations for smokey plumes from burning incense to waft through. Surfaces of the lower lid and vessel bowl are covered with repeated raised pointed knobby motifs, as if to represent the skin of the crocodile. The deep bowl is large enough to contain a substantial amount of kopal or another aromatic substance. Once heated, the fragrance would waft upward and through the openings on the lid. Size: 11″ W x 14″ H (27.9 cm x 35.6 cm)
The iconography on this piece is especially symbolic. The Crocodilian order, comprised of crocodiles, smaller alligators, and yet smaller caymans (all treated similarly in Pre-Columbian mythology) was very meaningful to the ancients of the Americas. The crocodile being the oldest (approximately 55 million years old) was understood as a crocodilian earth monster and is oftentimes shown giving rise to what was known as the World Tree. Partial to a watery habitat, the crocodile is also a metaphor for fertility.
"Ceramica de los Ancestros: Central America's Past Revealed" – exhibition at the National Museum of the American Indian George Gustav Heye Center (New York, New York, USA – April 18, 2015- May 20, 2018) featured examples similar to this one.
Provenance: private Hawaii, USA collection; ex-Fred Eisermann collection, Dallas, Texas, USA
All items legal to buy/sell under U.S. Statute covering cultural patrimony Code 2600, CHAPTER 14, and are guaranteed to be as described or your money back.
A Certificate of Authenticity will accompany all winning bids.
We ship worldwide and handle all shipping in-house for your convenience.
#148356
Condition
Lid professionally repaired from about a half dozen pieces. Stabilized crack from rim of lower bowl. Lid and bowl/receptacle fit together very well. Normal surface wear and abrasions to high pointed areas commensurate with age. Surfaces are covered with liberal manganese deposits and earthen deposits. Nice root marks. Collection labels under the lid and on underside of the bowl's base.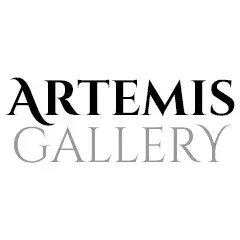 Live Auction
Start: Aug 22, 2019 10:00 EDT