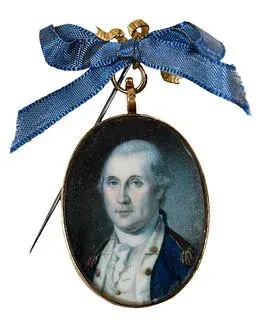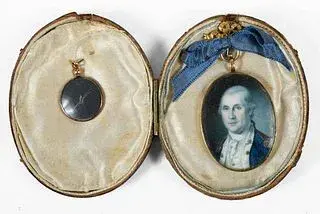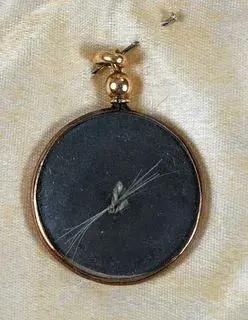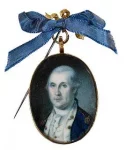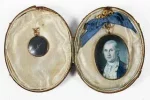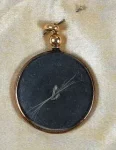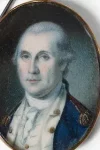 Winning Bid: $453,600
Charles Willson Peale:
(American, 1741-1827)
Rare and Important Portrait Miniature of General George Washington, c. 1785, the ?H. Patterson Harris? miniature, painted after Washington's sitting with Peale in 1779, watercolor on ivory, 2 x 1-1/2 in.; presumably original 18kt gold case, pinned to silk lining of a period leather case, 3-1/4 x 2-1/2 in.; together with a circular 18kt gold locket containing a lock of hair, (purchased separately) purported to be that of General George Washington, 1 in. diameter, pinned to the opposite side of the period leather case; together with Peale's studio desk and its assorted contents, mahogany with brass inlay, medallion reads "CH Peale/to/Coleman Sellers"
Note: This miniature is one of the works completed after the famed Sitting of 1779, which was a public commission to honor the "hero of the Philadelphia campaigns." The commissioned full length portrait of George Washington at Princeton– arguably Peale's most famous image of Washington– is in the collection of the Pennsylvania Academy of Fine arts. According to Charles Coleman Sellers, (ref. below), "The painter's response was not only a portrait, graceful, strong, and dignified, but in its composition and symbolism a paean of victory so telling and so happily conceived that he had orders at once for as many replicas of it as he could make. "
Literature: Sellers, Charles Coleman. 1968. Portraits and Miniatures by Charles Willson Peale. Philadelphia: American Philosophical Society, page 234, no. 932, ill. page 358.
Studio desk details: base felted, interior opens to inset felt, brass mount to interior stamped "Hawkins & Peale's/Patent Polygraph No 51", comprising: Charles Willson Peale's gilt metal octagonal spectacles; two fruit knives, one with English Sheffield silver blade, 1816, mother of pearl handle, the other by Albert Coles, New York; two knit coin purses, the silvered mounts engraved "Chas. W. Peale", and "Ann Sellers"; three boxes, one with monogrammed plaque "HP", hand written note reads "This box belonged to Hannah Peale, and is presented in memory/many virtues, to Margaret Coleman by her friend C.W. Peale/1822"; an embroidered button; 1796 Charles IIII eight Reales, Mexico City mint, "FM" assayer, with hand written note "This silver dollar/was/given to me by my Aunt Ann Sellers/when I was a young girl/Anna Sellers"; a box with locket of hair, including hand written note, partially illegible; leather bound pocket book, interior label "Pocket book/of Charles Willson Peale/carried by him for years"; box 4-1/2 x 18 x 11-1/2 in. Note: ◉This lot contains animal or plant material that may be restricted under federal, state and/or local law. Prospective bidders should check all applicable government wildlife restrictions prior to placing a bid. The buyer is solely responsible for obtaining any necessary licenses or permits from federal, state and/or local authorities applicable to their purchase or transport of the object. Please note that bidders in New Jersey may not bid on any lots containing elephant ivory, mammoth ivory, or rhinoceros horn.
Provenance: H. Patterson Harris, Southport, Connecticut; Descended in the family
Condition
not examined out of frame, appears in excellent condition relative to age, slight areas of wear at edges, commensurate with age; case with wear commensurate with age and use;
Box lid does not close evenly, scuffing, scratching, age splits to case, lacking some interior brass mounts, mounts discolored; all contents with wear commensurate with age and use, coin with some edge damage; one box lid detached but retained, break to hinge; leather pocket book heavy wear throughout; holes in knit coin purses, metal discolored; button discolored; box with hair locket, lacking inset, lacking key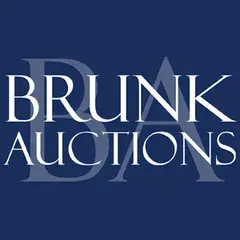 Live Auction
Start: Mar 26, 2022 09:00 EDT