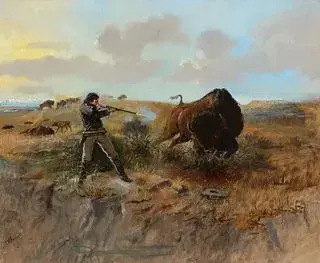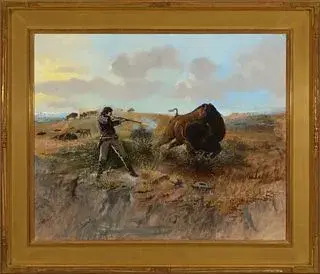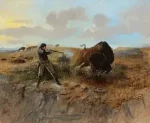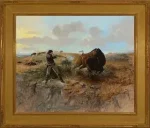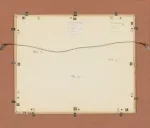 Winning Bid: $700,000
Charles M. Russell (1864–1926) — Shooting the Buffalo (ca. 1892):
Shooting the Buffalo (ca. 1892)
oil on canvas
27 × 33 inches
signed lower left
VERSO
Label, Amon Carter Museum, Fort Worth, Texas
Label, Buffalo Bill Historical Center, Cody, Wyoming
Shooting the Buffalo is recorded in the C. M. Russell Catalogue Raisonné as reference number CR.ACM.133.
According to Russell biographer Dr. Larry Len Peterson, "In the American West, opportunity calls men of courage. Around the time Shooting the Buffalo (ca. 1892) was created, Russell was preparing to leave the cowboy life behind for the uncertain life of a full-time artist. His dream would soon come to fruition, but that didn't mean he erased from memory his last dozen years on the Montana range. Real life experiences along with bunkhouse banter and bravado would fuel his imagination the rest of his life. His future wife Nancy Russell explained, 'No man can be a painter without imagination,' and also courage. Better titled Contest on the Plains, this oil is a nostalgic tribute to Buffalo Bill Cody, the cowboy, and the bison – gratitude in solid form. Studying the bison more extensively than any other artist, Russell immortalized the symbol of 'The West That Has Passed' in oil, watercolor, clay, bronze, and nostalgic prose and poetry. The woolly beast inspired him to create his famous buffalo skull cipher and his most desirable art, the buffalo hunt.
"No artist was a better predicament painter than Russell. In this duel it is uncertain which gladiator will come out victorious. While the hunter advances the first blow, if the target isn't lethal, then his future is in peril. Notice that he is teetering on uneven ground, backed up to the edge of a ravine, and there is no horse in sight to make a quick and safe escape. There were many stories of a raging bull enjoying the last laugh, which was just fine with Russell who was not a hunter. Very likely the popular legend that directly inspired this painting involved his idol, Theodore Roosevelt. The future president arrived in Dakota Territory in September 1883, just as the bison were near extinction. A rancher who made a thousand-mile trek throughout northern Montana reported to Roosevelt that during his entire trip he had never been out of sight of a dead buffalo and never been in sight of a live one. In 1881 with the commercial hunters killing 320,000 bison, the animals almost vanished from the plains, much like the Indian. The killing came to an end in 1883, when the Blackfeet netted their last few animals.
"As a disciple of Charles Darwin – champion of survival of the fittest – Roosevelt was determined to bag one of the last bison. Who was the fittest on the plains? Well, in his mind he was. Undaunted by rain and mud, the wilderness warrior and his hunting guide Joe Ferris confidently crossed into the badlands of eastern Montana, yet experienced no luck for days. Still, on September 20 they were finally rewarded. Exhausted from riding, walking, and crawling, Roosevelt wrote, 'I put the bullet in behind his shoulder. The wound was an almost immediately fatal one, yet with surprising agility for so large and cumbersome an animal, he bounded up the opposite side of the ravine … and disappeared over the ridge at a gallop.' In the next gully they found their prize 'stark dead.' The victor performed an Indian war dance and handed his guide a hundred-dollar bill. And Russell had the story to inspire him to create this work. Falling in love with the West, in 1884 Roosevelt built his famed Elkhorn cattle ranch, which was thirty-five miles north of the booming cow town of Medora, Dakota Territory. He would go on to pen the wildly popular Hunting Trips of a Ranchman (1885), Ranch Life and the Hunting Trail (1888), and The Winning of the West (1889), among dozens of other books.
"Early works such as Shooting the Buffalo anticipated Russell's rise over the next thirty years to become the most beloved and famous Western American artist. Russell was an artist savant. He was a one-off. People have tried, but nobody's come close to approaching his art, folksy appeal, and sheer fame. Western American art has never been bigger, thanks to Charlie, but at the same time, it feels a little smaller without him."
PROVENANCE
Mrs. Rose Lane, Lewiston, Montana
Amon Carter Museum, Fort Worth, Texas
Coeur d'Alene Art Auction, Coeur d'Alene, Idaho, 1999
Private collection, Bryn Mawr, Pennsylvania
Private collection, Colorado, 2005
EXHIBITED
Bison in Art, Buffalo Bill Historical Center, Cody, Wyoming, 1977
LITERATURE
Don Russell, The Lives and Legends of Buffalo Bill, University of Oklahoma Press, 1960, p. 88, illustrated
Frederic G. Renner, Charles M. Russell: Paintings, Drawings and Sculptures in the Amon Carter Museum, Harry N. Abrams, Inc., 1974, p. 56, illustrated
View more information
ConditionSurface is in excellent condition. Canvas is lined. Faint bar mark in the center, along the top. Specks of inpainting in the sky.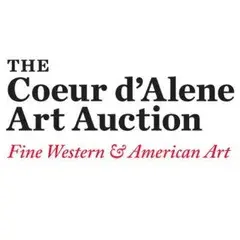 Live Auction
Start: Jul 23, 2022 15:00 EDT