Winning Bid: $1,680,000
Charles M. Russell (1864–1926) — Roping a Wolf (1904):
Oil on canvas
15 × 20 inches
signed and dated lower left
VERSO
Label, Gerald Peters Gallery, Santa Fe, New Mexico
Roping a Wolf is recorded in the C. M. Russell Catalogue Raisonné as reference number CR.ACM.128.
It is of great note that Frederic G. Renner included Roping a Wolf in his landmark publication Charles M. Russell: Paintings, Drawings and Sculptures in the Amon Carter Museum featuring Russell's finest works in the Amon Carter's collection.
Visiting New York City for the first time in December 1903, Russell's extended trip greatly influenced the artist and he returned to Montana in 1904 with a new sense of confidence in his artistic abilities. This watershed moment marks what many scholars believe to be the beginning of the period where he created his greatest works. Highly sought after, works by Russell from this period are the highlight of many museum and private collections
Considered to be one of Russell's finest oils, his mastery of high action and coloration are on full display in Roping a Wolf.
In discussing this painting Frederic G. Renner wrote, "With the destruction of their natural prey, the buffalo, wolves turned to the white man's cattle and these pests soon became a serious problem to early Montana cowmen. Various means for their destruction were tried. Some ranchers employed 'wolfers' to trap and poison the animals during the winter. John Harris, a prominent stockman of Fort Benton, imported a pack of hounds, but one winter the wolves got so hungry and bold they turned on the dogs and ran them all back to the safety of the ranch. Cowboys, encouraged by the bounty nearly equal to a week's wages, roped them for the fun of it.
"Both kinds of chaps typical of Montana are shown in this painting. Most Montana cowboys owned two pair – plain leather ones for summer use, and a pair of 'woolies,' which were worn for their added warmth in the fall and winter. Forty-below weather required something more than cowhide to keep the cowboys from freezing and they resorted first to covering their chaps with bear skin with the fur left on. As this fur became hard to come by, long-haired goat skin from Texas was substituted and such chaps also became known as 'angoras.'"
PROVENANCE
The artist
John A. Sleicher, Albany, New York
Mary Sleicher, Albany, New York
Amon Carter Museum of American Art, Fort Worth, Texas
Private collection
LITERATURE
Larry Len Peterson, Charles M. Russell, Legacy: Printed and Published Works of Montana's Cowboy Artist, Falcon Publishing, 1999, p. 134
Frederic G. Renner, Charles M. Russell: Paintings, Drawings and Sculptures in the Amon Carter Museum, Harry N. Abrams, Inc., 1984, p. 170, illustrated
View more information
Condition
Surface condition is excellent. Thin line of inpainting in sky, above lead cowboy's head.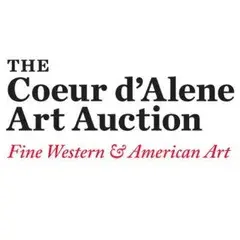 Live Auction
Start: Jul 31, 2021 14:00 EDT
End: Aug 02, 2021 04:09 EDT