Starting: $14,000
Ancient Greece, Athens, Attic, Painter of Louvre F6, ca. 560 to 550 BCE. A magnificent black-figured krater, quite sizeable and presenting a wonderful iconographic program, attributed to Painter of Louvre F6 of the workshop of Lydos by Dr. Janos Gy. Szilagy. Side A features a swan between two confronting panthers. Side B presents a large mountain goat occupying the entire central register. Beneath each handle is another swan, and swans also adorn the square top of the handles. Each animal is further adorned with incised details as well as fugitive red pigment. Painted vessels by the Painter of Louvre F6 relate to Lydos in that animals are featured on very large vessels relatively late in Athens, and the style of the animals is very similar. Size: 14″ W handle span x 10.625″ H (35.6 cm x 27 cm)
The animals on this vessel carried great symbolism. The swan, for instance, was a creature which played a complex role in Greek mythology. The swan was an attribute of Aphrodite and Apollo, said to sing a song of unearthly beauty as it died. It was also the form assumed by Zeus to ravish Leda, mother of Helen of Troy. The panther is associated with Dionysos (Roman Bacchus) – the Olympian god of wine, pleasure, ritual madness, ecstasy, and theatre – as artists in ancient Greece and Rome depicted Dionysos (Bacchus) riding a magnificent panther. For example, a wonderful Greek mosaic from Pella (ca. 4th century BCE) depicts Dionysos riding a panther. Then there is the marvelous marble sculpture of Dionysus with Panther (ca. 2nd century CE) at the Uffizi Gallery in Florence. In addition, another marble sculpture depicting Dionysos with a panther (ca. 150 BCE to 100 CE) is in the esteemed collection of the Yale University Art Gallery (1956.8.30). Goats were another animal associated with Dionysos, traditionally sacrificed to honor the god. In addition, there is evidence that goat masks associated with the god were worn by dancers in worship rituals dating even earlier with imagery found in a Minoan tomb near Phaistos in Crete.
A close parallel for the swan and panther imagery occurs on an amphora that was part of a Christie's auction (June 12, 2000 – Lot 34). Also compare to a hydria with animal iconography in the manner of Lydos from the Tocra Museum in John Boardman "Athenian Black Figure Vases" (Thames & Hudson, 1985, figure 72).
In addition, the National Archaeological Museum, Athens, Greece has a black-figure column krater by Painter of Louvre F6 in their collection, and the Museum of Fine Arts, Budapest has an Attic Black-Figure Amphora by Painter of Louvre F6 (inventory number T.657).
Provenance: ex-South German private collection, acquired in the 1980s; acquired from J. Haering, Freiburg, Germany, in 2010
All items legal to buy/sell under U.S. Statute covering cultural patrimony Code 2600, CHAPTER 14, and are guaranteed to be as described or your money back.
A Certificate of Authenticity will accompany all winning bids.
We ship worldwide and handle all shipping in-house for your convenience.
#152684
Condition
Professionally repaired from about 2 dozen pieces with restoration over the break lines. Very well done. Very little if any overpainting. Expected surface wear with a few scuffs, scratches, nicks commensurate with age.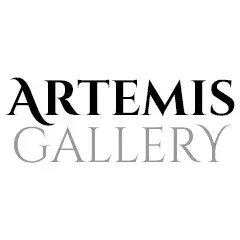 Live Auction
Start: Feb 13, 2020 10:00 EST