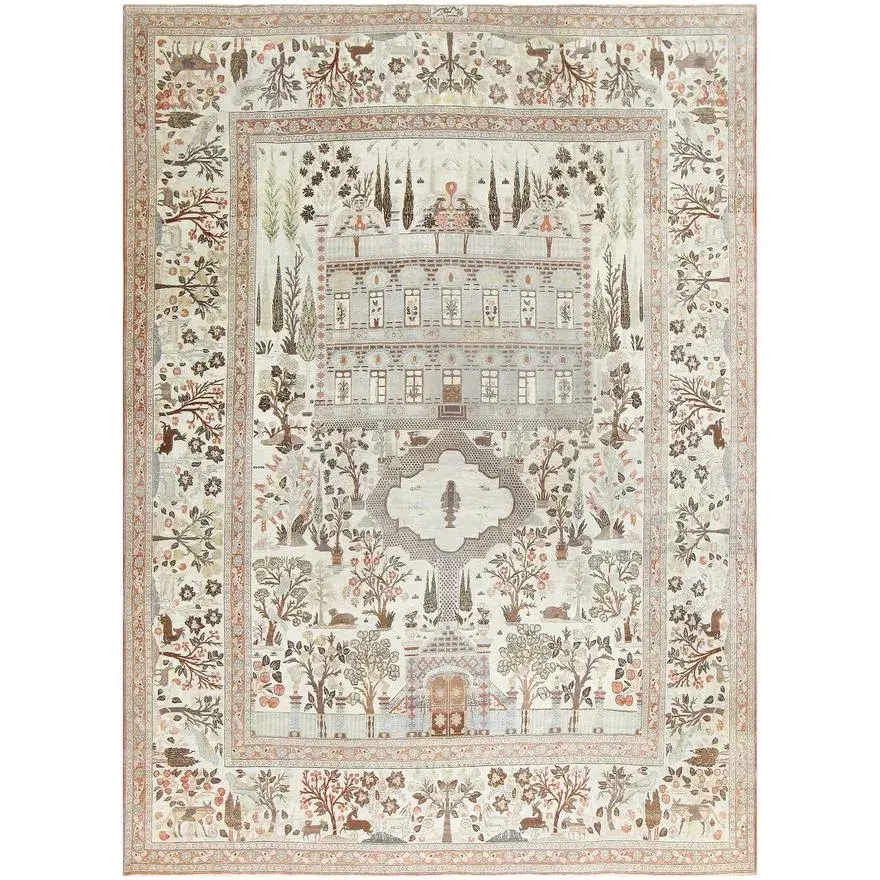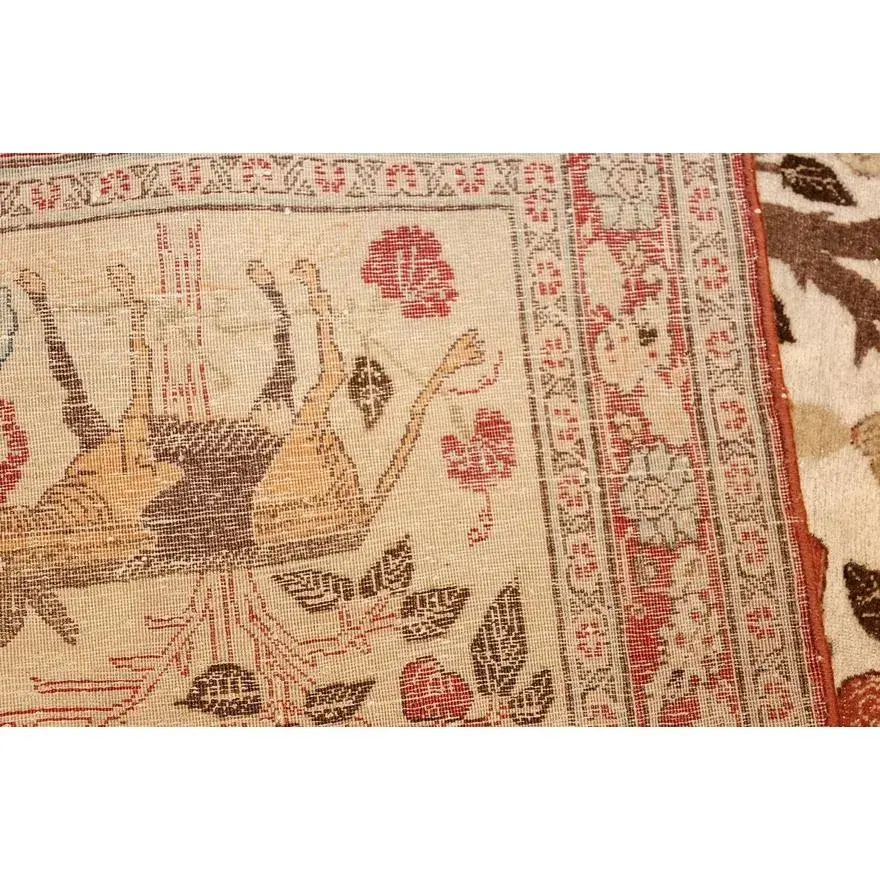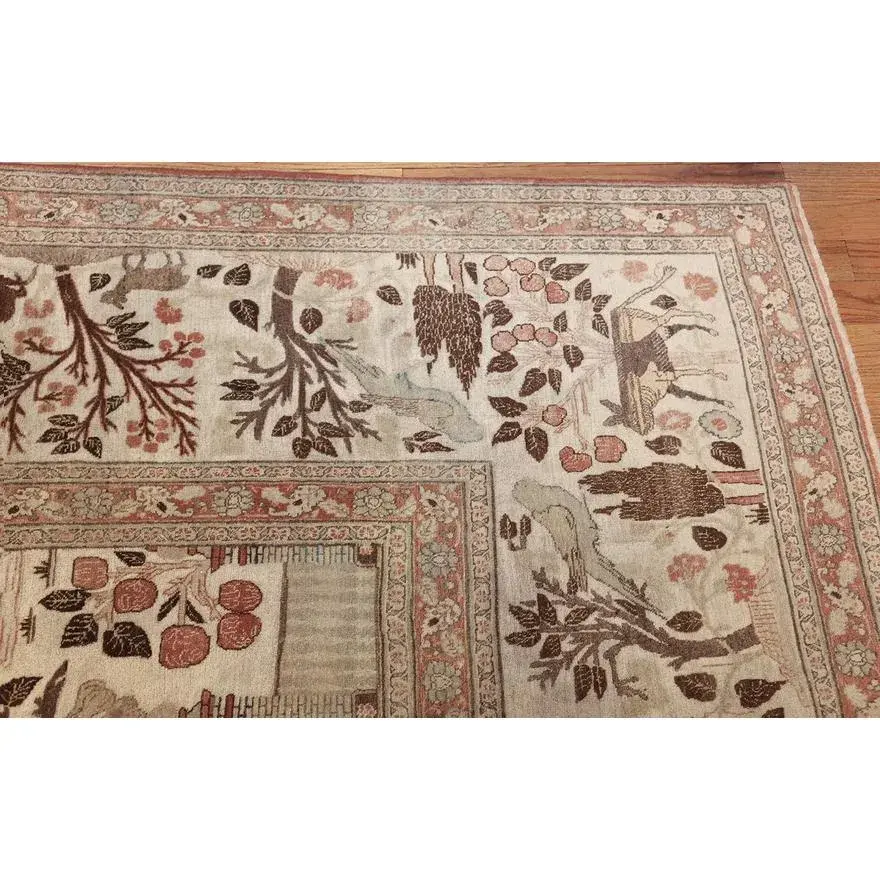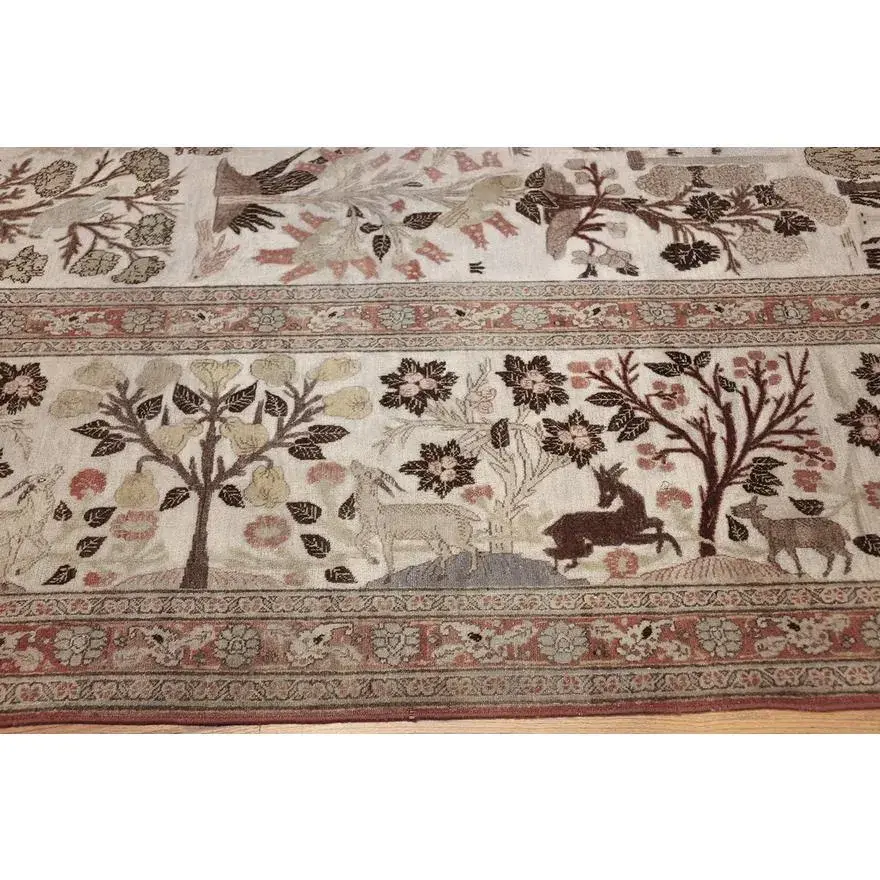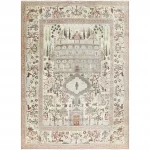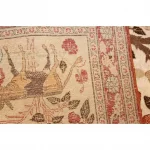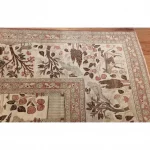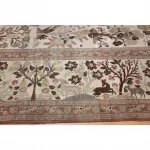 Winning Bid: $11,000
Antique Persian Palace Scene Tabriz Rug. 15 Ft 6 In X 10 Ft 10 In (4.72 M X 3.3 M).:
Antique Persian Pictorial Tabriz Rug, Country of Origin: Persia, Circa Date: 1900 — This antique rug depicts a beautiful palace scene set against a cream field in pale blue and brown shades. A multistory building overlooks a central fountain, surrounded by gardens and connected to an imposing closed front gate and adjoining fence by a cobbled path. The garden displays trees, some in containers, and numerous blossoms; it aligns beside the palace in a symmetrical pattern. The palace itself features intricate details, including a crest of grapes and blossoms on the center of the roof surrounded by two lion-faced figures. Bright flowers in vases line the windows and decorative designs along the walls emerge in the fine detail of this rug. Two windows reveal the profile of a person inside the building. The broad cream border contains forest scenes, with deer, antelopes, mountain goats, birds and other animals placed decoratively among the flowering trees and blossoms. Red guard borders trimmed in blue contain scrolling white leaves and pale blue flowers. Weavers in the large city of Tabriz in Iran's far northwestern mountains have created many types of lovely Persian rugs and carpets for hundreds of years. Rugs from the area often utilize cream fields very effectively.
Condition
This lot is in very good condition. The pile is mostly full and even with minor worn spots . This is a commissioned piece by an unknown buyer as it states in the cartouche . All four sides are complete and secured. There is no dryness in the foundation. This rug is clean and floor ready. Please contact our rug experts at [email protected] or call us for any questions you may have at 212.545.8029.
Provenance
Property of a New York dealer.
View This Rug In Your Room
Quantity
1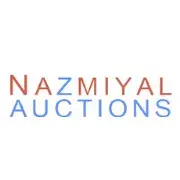 Live Auction
Start: Mar 13, 2022 11:00 EDT