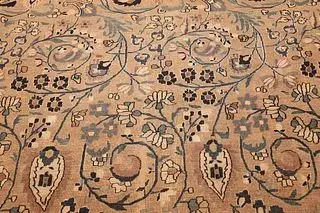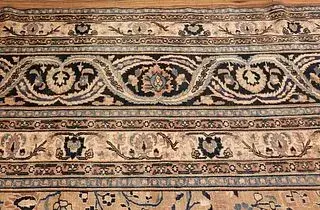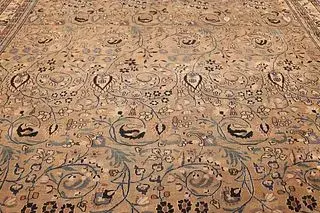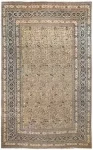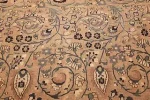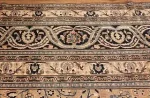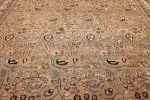 Starting: $10,000
Antique Khorassan Carpet – No Reserve 21 ft 7 in x 13 ft 3 in (6.58 m x 4.04 m):
Khorassan carpets have elegance in the design that creates the perfect touch to add an air of sophistication to the room. This antique was created around the beginning of the 20th century. Its soft, neutral tones give it an organic feel that is refined and peaceful.
Persian carpets are of excellent quality and have a high knot density allowing the artist to create a high level of detail in the design. This carpet uses gentle blues, earthy browns, and soft pinks to create a piece that reflects the natural world. The design uses sweeping spirals to create flow and motion throughout the field.
The artist also created motion in the border by using stylized sickle leaves to create a feeling of flow. This also creates a formal frame for the field design and adds another element of interest. The darker background in the main border creates visual contrast that gives the design definition. The allover design is created using a repeating pattern that is precisely reproduced, further enhancing the formal feel of the carpet.
This beautiful piece has a harmonious feel in the design and colors. The colors would blend beautifully with a neutral color palette. It would be the perfect match to a navy blue room, where it would add a natural feel. In a room using an earthy palette, it would add a bit of color and artistic design without becoming overpowering. This carpet is perfect for traditional and modern designs that bring in elements of the natural world.
Condition
Request Condition Report
Full condition report on request. Please contact our rug experts at [email protected] or call us for any questions you may have at 212.545.8029.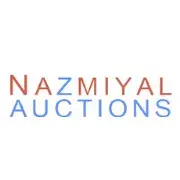 Live Auction
Start: Jun 12, 2022 11:00 EDT