Winning Bid: $2,500
Anasazi Chaco Canyon Pottery Canteen:
Native American, Southwestern United States, Four Corners region, Chaco Canyon, Pueblo I/Pueblo II (Anasazi) period, ca. 900 to 1030 CE. A mesmerizing, hand-built pottery canteen of globular form with two nubbin handles, a squat neck, a gently flared lip, and an amazing linear motif painted across its exterior in the iconic Anasazi black-on-white manner. The painted program is a series of three identical registers completed in an array of zig zags, triangles, vertical, horizontal, and diagonal lines. The Chaco Canyon lies in the high desert, among mountains and planes – scholars believe that many of these abstract designs were inspired by their landscape and weather phenomenon of the area. The abstract geographic motif can be seen in the triangles and other painted forms presenting like mountains in the distance, a moody sky, and perhaps a shining sun. A very well-preserved example! Size: 6.25″ W x 6″ H (15.9 cm x 15.2 cm)
Pottery of this kind is some of the most important found in the ancient Southwest. The Chaco Project, the major excavations of Chaco Canyon (today a National Historical Park that is well worth a visit), recovered more of this pottery than any other style. Chaco was the center of the ancestral Puebloan (Anasazi) culture, a vast city of monumental architecture, including massive stone Great Houses of multiple stories and kivas of all sizes. Roads from Chaco Canyon radiated to outlying settlements for hundreds of miles, and it seems to have been a religious, social, and trade hub for a vast region. Today many Native peoples in the Southwest connect their own histories to Chaco, seeing it as a stop along their sacred migrations.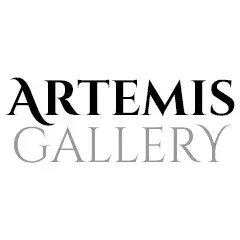 Live Auction
Start: Jun 24, 2021 10:00 EDT
End: Jun 25, 2021 11:17 EDT