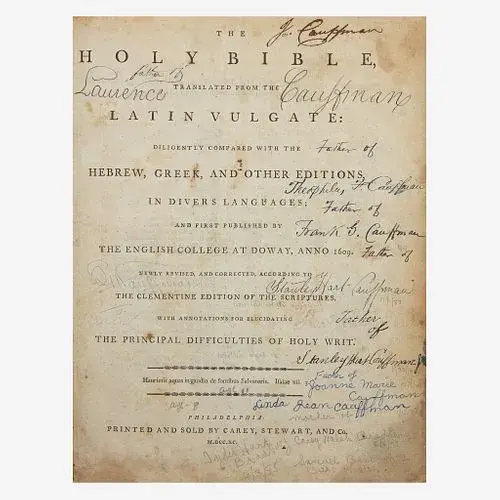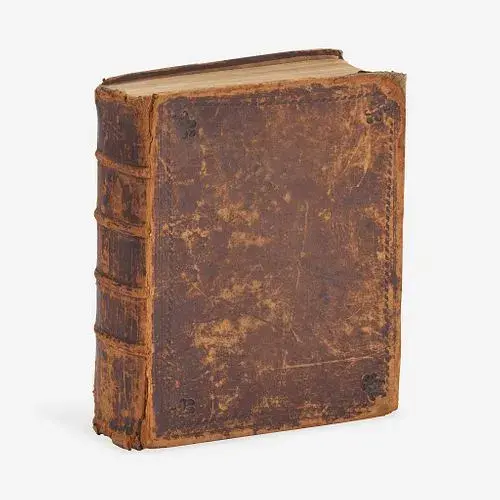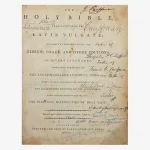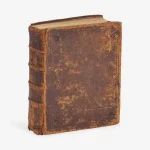 Winning Bid: $21,420
[Americana] [First Catholic Bible] The Holy Bible, Translated from the Latin Vulgate: Diligently Compared with the Hebrew, Greek, and Other Editions :
In Divers Languages; and First Published by the English College at Doway, Anno 1609
The First Catholic Bible Printed in the United States
Philadelphia: Carey, Stewart, and Co., 1790. Two volumes in one. First American edition. 4to, 10 1/8 x 8 in. (257 x 203 mm). viii, 487, (5); 280, *[281-284]*, 281-490 pp. Printed in two columns; without separate title-page for second part, as issued. Contemporary brown calf, stamped in blind, boards, joints and extremities rubbed and worn, rear board starting; all edges trimmed; extensive ownership signatures belonging to the Cauffman family of Philadelphia and Roxborough, on front paste-down, front free endpaper, title-page, and at head of the first page of The Book of Genesis, dating from 1796-1985; foxing and soiling to most text leaves; pencil sketches on interior blanks; repair in bottom corner, pp. 91/92 in first part; tear in upper gutter, pp. 473/474 in first part; tear in bottom gutter, pp. 303/304 in second part; MS. on verso of rear blank; lacking rear endpaper; scattered marginalia; book-plate of Theo. F. Cauffman, Warden of St. Timothy's Church, Roxborough, ca. 1860s, on front paste-down. Evans 22349; Sabin 5166; Hills 23; Herbert 1343; ESTC W38299
Rare first American edition of the Douay version of the Bible, the first Catholic Bible printed in the United States, which was based on the second edition Catholic Bible by English Bishop Richard Challoner of 1763-64. "In 1789, Mr. Carey announced plans to publish a translation of the Vulgate Bible if he could secure 400 subscribers. The actual number secured was 471. The total number of the edition printed is not known; however, it could not have been much over the number of subscriptions as the demand for a Catholic Bible was small in the United States at that time. The undertaking was therefore an expensive one for the size of the edition, and it was first decided to print the Bible in 48 parts, to be issued weekly. Though it is generally assumed that a few parts were printed (the designation 'Vol I' does not appear on any signatures on the first 89 pages of text), Carey abandoned the scheme and formed the publishing firm of Carey, Stewart & Co., which published the Bible on Dec 1, 1790. The type was specially cast by Baine and Co., Philadelphia. It is now the rarest of the notable early American editions of the Bible." (Hills, The English Bible in America)
This rare Catholic Bible features a fascinating near-200 year manuscript record of the Cauffman family of Philadelphia and Roxborough. It contains 10 ownership signatures of the various family members, starting with the original owner, Joseph Cauffman, in 1796, and ends with Tyler Hart Bradbury, 1985. According to the Records of the American Catholic Historical Society of Philadelphia, Cauffman was the founder of the Cauffman family line in the United States. Born in Strasburg, Germany in 1720, he moved to Philadelphia in 1749. He is known to have contributed funds to the construction of St. Mary's church in Philadelphia, and was later a trustee. He also raised money to found a Catholic Academy in Georgetown, Washington, D.C., and invested heavily in land in Philadelphia, Chester, Bucks, Westmoreland, Indiana, and Montgomery counties in Pennsylvania. He married Anna Catherine around 1754, died in Philadelphia in 1807, and was interred in St. Mary's.
Rare. We can locate only six other copies of this bible in the auction record since 1898.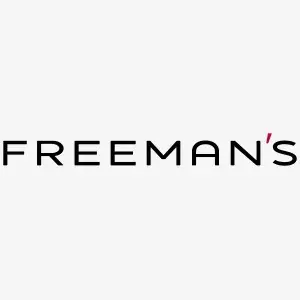 Live Auction
Start: Feb 17, 2022 10:00 EST