Winning Bid: $220,000
Alice Baber, (1928-1982), "Axe in the Grove," 1966, Oil on canvas, 48″ H x 64″ W:
Alice Baber
(1928-1982)
"Axe in the Grove," 1966
Oil on canvas
Signed near the lower edge, left of center: Baber; titled on the stretcher, verso; dated and inscribed on the stretcher, verso: Paris [partially crossed out] 1966 New York
48″ H x 64″ W
Provenance: A.M. Sachs Gallery, New York City
Private Collection, Long Island, New York (acquired from the above on November 29, 1966)
Gift from the above to the present owner, c. 1980
Exhibited: A.M. Sachs Gallery, New York City, November 15 n December 3, 1966
Literature: Grace Glueck, iArt: A Many-Sided Bernini | Alice Baber,i New York Times, November 19, 1966, https://timesmachine.nytimes.com/timesmachine/1966/11/19/issue.html.
This work is accompanied by a copy of the original invoice from A.M. Sachs Gallery, New York City, dated November 29, 1966.
Notes:
Alice Baber, who was born in Charleston, Illinois in 1928, began exhibiting her work in New York City in 1957 when she was included in the Stable Galleryis Sixth Annual Exhibition of New York artists. Baber, as one of the approximately twenty women included on the Annualis extensive roster, was shown alongside Grace Hartigan, Louise Nevelson, Lee Krasner, Mary Abbott, Joan Mitchell, and Elaine de Kooning. While many of the male artists featured in this exhibition have been recognized as key figures of the Abstract Expressionist movement, Baber n who died at the age of fifty-four in 1982 n has long been overlooked by museums and the art market at large.
Painted in 1966, The Axe in the Grove was included in Alice Baberis second exhibition at A.M. Sachs Gallery, which was located at 822 Madison Ave. and 67th Street. It was Baberis second one-person show with A.M. Sachs, and only the fifth in her career.
After the exhibition opened on Tuesday, November 15th, it was reviewed in the New York Times later that week. The noted arts journalist Grace Glueck, who authored the review, wrote the following passage about Axe in the Grove and its place within the exhibition overall:
Disks and puffs of pure bright color drift lyrically over a white field toward a gentle vortex, bumping one another like colored balloons at a childrenis party. Miss Baberis most successful work is large in scale, as iAxe in the Groove [sic],i where the white in the canvas is almost completely suppressed. The smaller the canvas, the larger the areas of white, and the greater the loss of focus.
Alice Baber spent her earliest years in a region of eastern Illinois known for its prairie land, before her parents relocated the family to Florida to escape the harsh winters that were having a detrimental effect on her and her motheris health. The title of this painting, The Axe in the Grove, likely refers to the region of Florida where spent much of her childhood. Yet, when one looks at the paintings that Baber created across all periods of her career, it is possible to find parallels between both the glowing irradiance of the Florida sunlight and the deep, rich tones of her earthy Illinois homeland o often, within a single painting.
On November 29, 1966, just five days before the exhibition closed, a couple from Long Island purchased "The Axe in the Grove." The work hung in their home until the early 1980s, when a move into a smaller home prompted them to gift the work to the present owner.
Alice Baberis work has been exhibited alongside many key members of the Abstract Expressionist movement, including (but not limited to):
Mary Abbott, William Baziotes, Norman Bluhm, Louise Bourgeoise, Friedel Dzubas, Perle Fine, Sam Francis, Helen Frankenthaler, Dorothy Gillespie, Sam Gilliam, Michael Goldberg, Adolph Gottlieb, Grace Hartigan, Hans Hofmann, Paul Jenkins, Ray Johnson, Franz Kline, Elaine de Kooning, Willem de Kooning, Lee Krasner, Morris Louis, Joan Mitchell, Robert Motherwell, Robert Natkin, Louise Nevelson, Kenneth Noland, Jules Olitski, Charlotte Park, Ray Parker, Betty Parsons, Jackson Pollock, Richard Pousette-Dart, Ad Reinhardt, Milton Resnick, David Smith, Theodoros Stamos, Alma Woodsey Thomas, Bob Thompson, Jack Tworkov, Esteban Vicente
Select Museum Collections:
Metropolitan Museum of Art, New York, NY
Museum of Modern Art, New York, NY
San Francisco Museum of Modern Art, San Francisco, CA
Santa Barbara Museum of Art, Santa Barbara, CA
Solomon R Guggenheim Museum, New York, NY
Whitney Museum of American Art, New York, NY
For additional information on the historical context of this painting, please see Joan Marter, Women of Abstract Expressionism, published by the Denver Art Museum in conjunction with Yale University Press, 2016.
ConditionVisual: Overall good condition. An approximately quarter-sized pressure mark in the peach color at the lower right. Some very unobtrusive, scattered specks of grime, pinhead-sized or smaller. A small series of approximately pea-sized spots of grime in the lower right corner. Dust accumulation, verso, commensurate with age.
Blacklight: No evidence of restoration.
Frame: 48.5″ H x 64.5″ W x 2″ D
Condition reports are offered as a courtesy and are typically published in Moran's catalogue or can be made available upon request. The absence of a condition report does not imply that an item is free from defects or restoration, nor does a reference to particular defects imply the absence of others. Buyers are responsible for determining to their own satisfaction the true nature and condition of any lot prior to bidding. Though buyers are not legally required to inspect lots prior to purchase, failure to do so may constitute a waiver of complaint that an item was not delivered in a condition equal to the existent condition at the auction.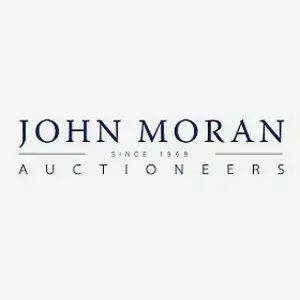 Live Auction
Start: Feb 28, 2023 15:00 EST