Starting: $30,000
Abbasid Tin Glazed Ware Pottery Bowl, ex-Christie's:
Near East/Middle East, Iraq, Abbasid Dynasty, ca. 9th to 10th century CE. A magnificent lustreware (lusterware) ceramic bowl, made in ancient Iraq and inspired by Tang China. It is a shallow bowl with wide, flaring sides and a diminutive disc foot. The interior is decorated with a delicately-painted elegant motif of a flower in blue on white. Around the rim, in the same colors, a band of laurel leaves forms a border between the interior and exterior of the bowl. This is a truly stunning example of some of the earliest style of this pottery that would come to define Islamic ceramic art for centuries. Size: 7.95″ W x 2.45″ H (20.2 cm x 6.2 cm)
In the later 8th century, Islamic empires in the west and China in the east battled each other for control of the incredibly lucrative trade along the Silk Road. At one point, the western powers captured a group of Tang Dynasty craftsmen, holding them in Baghdad for over 10 years. Tou-Houan, one of these captives, had been taken from his workshop near Samarqand after the Battle of Talas in 751 CE. After his return to China over a decade later, he wrote to his emperor that he and his countrymen had taught the Abbasids several important techniques. With this knowledge, Abbasid artisans created lustreware, a decorative technique that they likened to alchemy – it used a lead-based glaze, silver, and copper paint to create a golden sheen on ceramic surfaces. The warm glow of the motifs here are a perfect example of this "magical" technology. See several similar examples in the Khalili Collection, London, UK, the most famous collection of Islamic artwork in the world.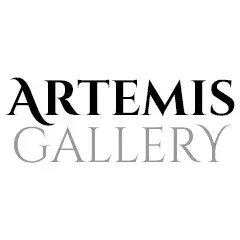 Live Auction
Start: Jun 10, 2021 10:00 EDT
End: Jun 11, 2021 11:33 EDT