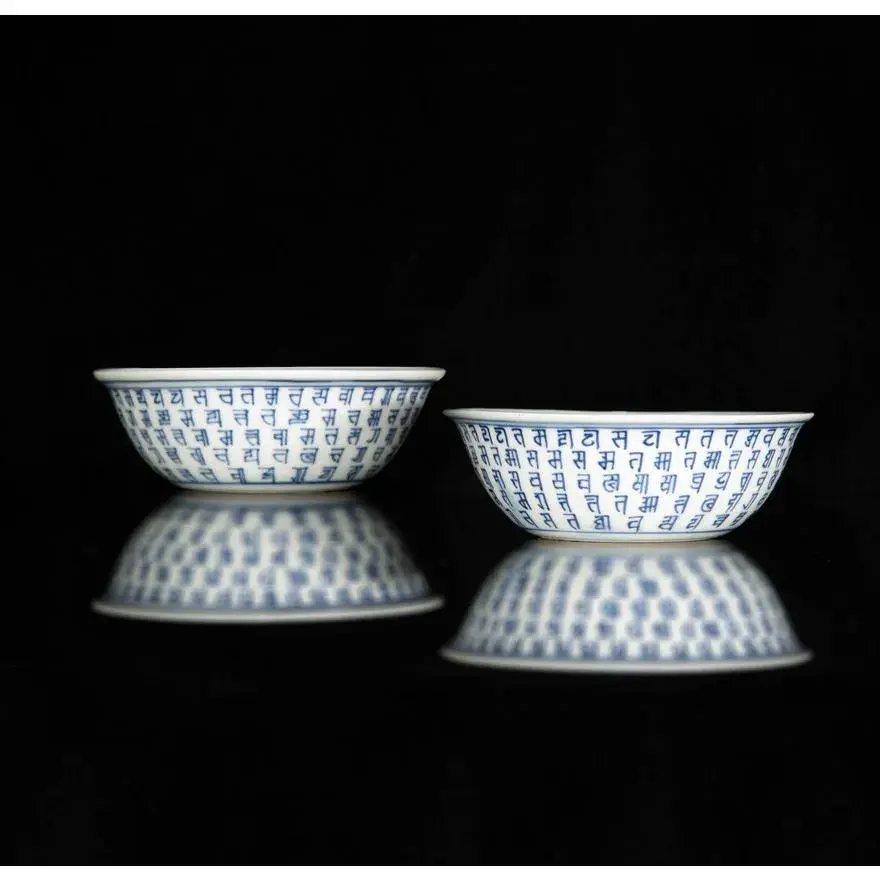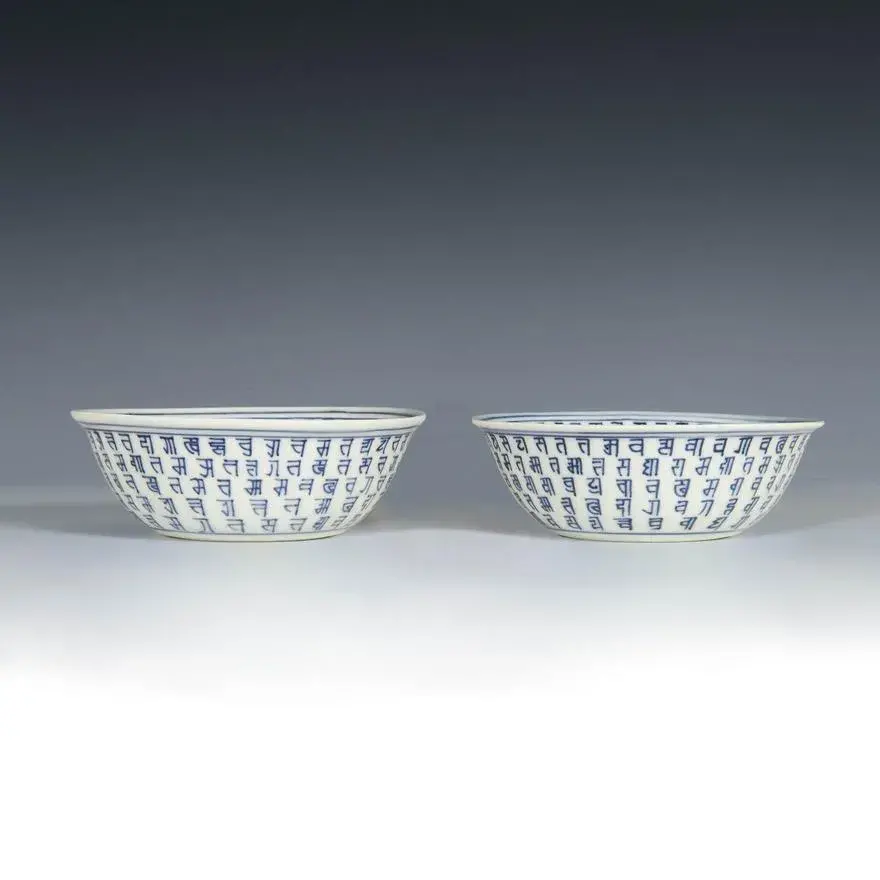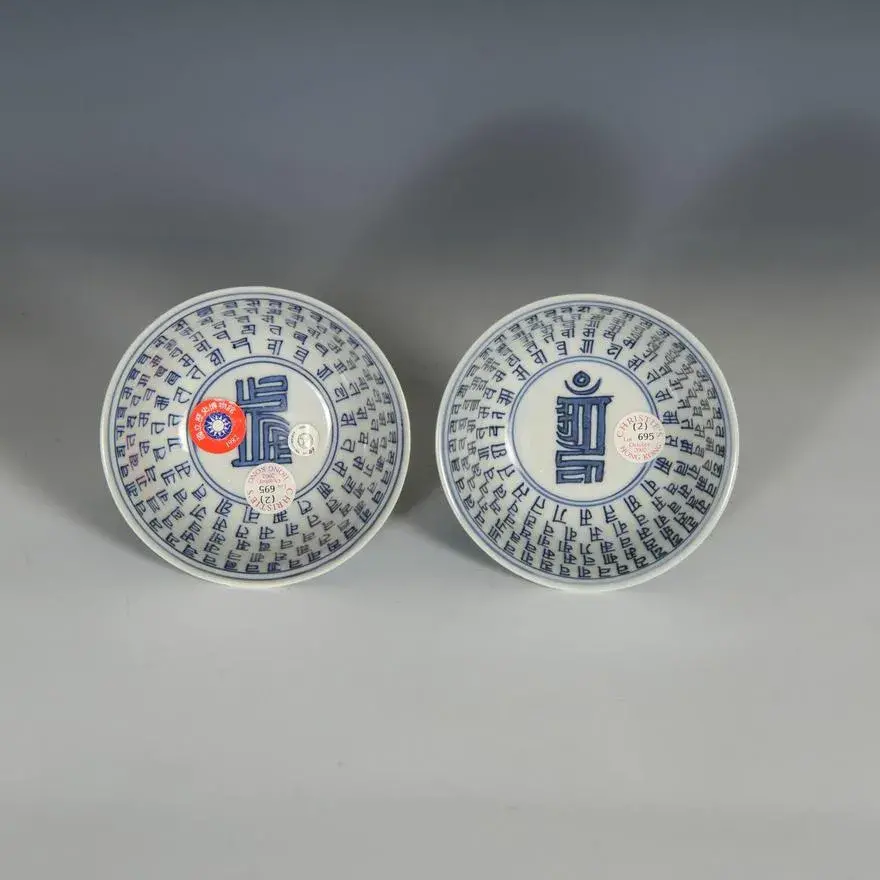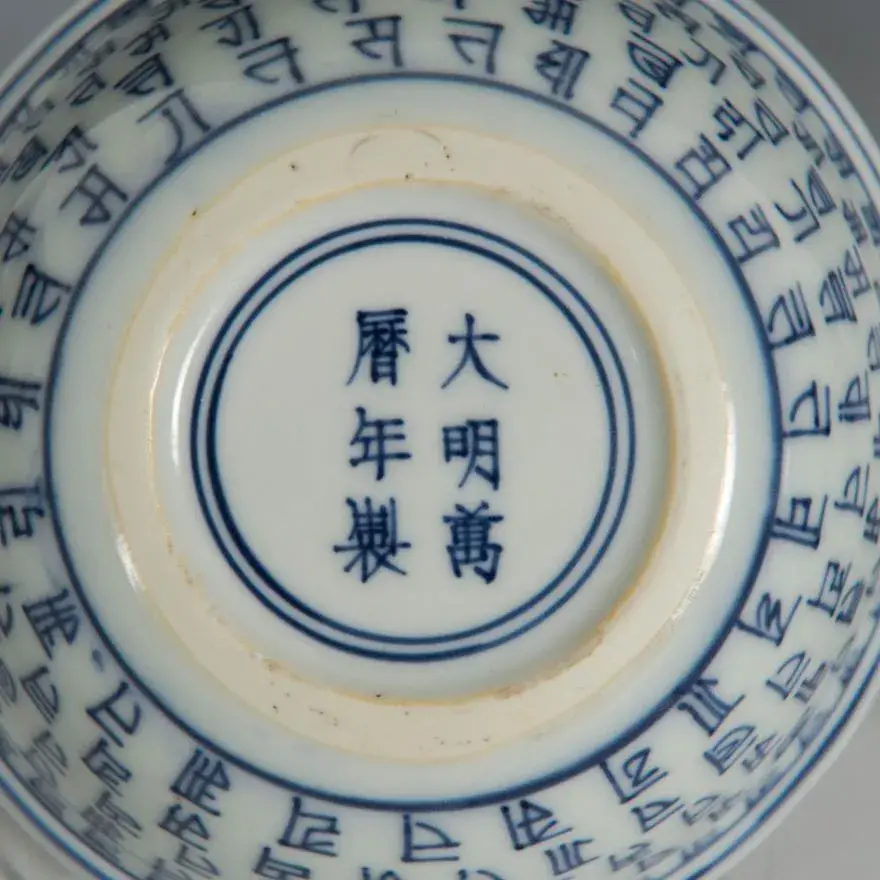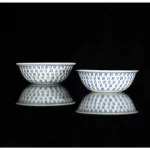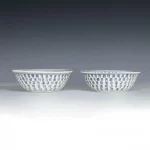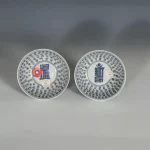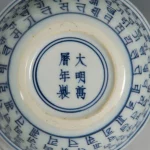 Winning Bid: $62,500
A Pair Of Chinese Blue And White Bowls, Wanli Period, Ming Dynasty:
H: 1 1/2, Dia: 4 5/8 in. (H: 3.81, Dia: 11.75 cm.)
Description
A pair of Chinese blue and white bowls
Wanli period, Ming dynasty
明萬曆 青花梵文茶圓一對
Both with six-character Wanli marks to undersides; both with multiple previous stickers; sold with an associated box. (2).
This pair of bowls is well fired, possessing a classic form and unique decoration. The mouth rims are decorated with two blue and white circles, complementing the bodies, which are covered with blue and white Sanskrit inscriptions. Their glaze is rich like jade, and their blue is vibrant. On the center of the bowls is a large Sanskrit "Buddha". On the bottoms is the blue and white 'Made in Ming Dynasty Wanli Period" six-character seal mark within two circles. These traits are indications of Wanli period imperial kiln products. The Palace Museum and the National Palace Museum both have similar Sanskrit bowls in their collections, which can be used for reference.
The Palace Museum, No. 00082997 ; the National Palace Museum, No. 013174N000000000 ; Sotheby's, Hong Kong, November 2019, Lot 454.
此對拍品造型精巧,撇口弧壁,臥足式。碗壁內外口沿以雙圈青花裝飾,整器以青花梵文作飾,碗心書一巨大梵文"佛"。底部落青花雙圈內書"大明萬曆年制"六字二行楷書款。此對碗燒製優良,造型經典,紋飾獨特,其釉厚潤如玉,青花髮色明豔,應屬於萬曆時期官窯精品之作,又是成對出現,難能可貴。故宮博物院和國立故宮博物院館藏皆有此類梵文碗,可資參考。
故宮博物院館藏,編號新00082997 ;國立故宮博物院,編號故瓷013174N000000000 ;蘇富比拍賣2019年11月香港拍賣,編號454。
Click here for high resolution images. 高清細圖請點擊鏈接
Condition
Bowl with three stickers to the interior has a firing defect to the foot, a firing crack to the foot, and three firing cracks to the interior. The other bowl has two areas of minor glaze pops to the rim and a firing defect to the foot.
一个口沿有两处细微爆釉,圈足有一处窑裂;另一个内部有三处细小釉裂,圈足有一处窑粘,一处窑裂,其余品相良好
Provenance
Collection, Messrs S. Marchant & Son. Christie's Hong Kong auction in October 2002, Lot 695.
Exhibited: Exhibition of Ancient Chinese Ceramics, from the Collection of the Kou Chi Society of Chinese Art, Chinese University of Hong Kong, 19th December 1981 to 18th February 1982, p. 89; and the National Museum of History, Taipei, Taiwan, 20th April to 30th May 1982.
倫敦著名古董商馬錢特舊藏。 佳士得拍賣2002年10月香港拍賣,編號695。 展覽:分別於1981年12月19日至1982年2月18日在香港中文大學、1982年4月20日至1982年5月30日在臺灣歷史博物館,「求知雅集收藏中國古代瓷器」展覽中展出,出版於展覽圖冊第89頁。
Live Auction
Start: Sep 16, 2022 09:00 EDT