Starting: $650
For every order (single or multiple lots) in this auction, Artemis Gallery will donate 25 meals to Community Food Share, a Feeding America Food Bank.
Northern Europe, Viking / Norse culture, ca. 8th to 11th century CE. An elegant, hammered 98% silver bracelet of circular form with tapering terminals and a narrow opening between them. The exterior face of the bracelet is stamped with repeated and regular triangles, each with low granulations within its form. Some shallow triangular stamps are also on the interior. The stamped triangle pattern was very popular in the Viking world, although its meaning is unknown. This lovely bracelet is wearable! Size: 2.8″ W (7.1 cm); silver quality is 98%; total weight is 26.8 grams
A piece such as this would have been made in a specialized workshop centered around a hearth, probably using the lost wax casting technique. The important Viking metalworking shops correspond to their great trading ports and proto-urban centers – Birka, Helgo, Sigtuna, and Lund in Sweden, Ribe, Haithabu (Hedeby), and Fyrkat in Denmark, and Kaupang and Trondheim in Norway. Silver was the principal currency of the Viking world, which stretched from Russia to northern Canada at the height of their influence. In many places, the Vikings kept silver not as coins, but as jewelry, a wearable currency form that was not subject to the authority of a monarch or mint. One of the most common archaeological finds from the Viking period is a hoard of metal objects, often buried in the earth or deposited in bodies of water, like river beds.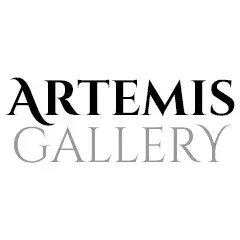 Live Auction
Start: Apr 16, 2020 12:00 EDT