Starting: $2,000
Eastern Europe, Russia, ca. 1849. A very special icon depicting Christ holding a globus cruciger (orb surmounted by a cross) that is adorned with the All Seeing Eye of God (also Eye of Providence) inscribed in a triangle (the triangle representing the Holy Trinity) in his left hand – signifying that the Almighty is keeping a watchful eye over his creation – and making a gesture of benediction with his right hand. The icon is finely painted in egg tempera on wood and covered with a magnificent silver oklad (also oclad or riza) traces of gilding on the radiating cut halo surrounding his visage. In addition to the halo, his robe and globus cruciger are expertly delineated in repousse with wonderful chased details as shown. All is surrounded by a lavish border adorned with a plethora of decorative flourishes as well as IC XC – the traditional Christogram derived from the Greek words "Jesus Christ". Size: 7″ L x 5.5″ W (17.8 cm x 14 cm) Size: 7″ L x 5.5″ W (17.8 cm x 14 cm)
The oklad (also spelled oclad) or riza, sometimes referred to as a revetment in English, is a metal cover that not only protects the icon, but also serves to honor or venerate the figure(s) depicted on the icon. Oklads are usually adorned with skillfully cut, engraved, and/or repousse work and pierced to reveal elements of the underlying painting as we see in this example.
Icons (icon means "image" in Greek) are sacred objects within the Eastern Orthodox Christian tradition. Found in homes as well as churches, these painted images depict holy persons and saints as well as illustrate scenes from the Scriptures. Icons are not worshiped, but are instead venerated for their ability to focus the power of an individual's prayer to God. As a focus for prayers and meditation for believers, icons serve as "windows into heaven."
Lucite stand in photo not included.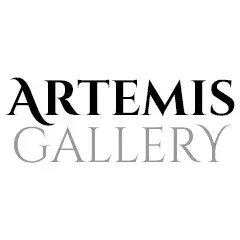 Live Auction
Start: Dec 10, 2020 12:00 EST