Starting: $2,500
Russia, ca. 1858 CE. Finely painted in egg tempera on wood and fitted with an impressive silver oklad with hallmarks, an icon depicting Cosmas and Damian, brothers who combined faith with the medical profession to care for the sick free of charge. The oklad delineates their medieval laymen's vestments, ornate halos, and medicine boxes held in their hands in repousse with cut radii on halos. Between the figures is the basilica dedicated to them in a lush landscape; above, Christ in the Heavens. Size: 15.25″ W x 18.5″ H (38.7 cm x 47 cm)
The borders feature elaborate Russian strapwork motifs. What's more, on the lower end of the oklad, on the silver sheet folded under the composition, is a hallmark that looks like a backwards "NA" or "HA" over the year 1858. Another mark indicates that the silver assayed at 84. The city mark appears to indicate Moscow. The makers mark reads "AH".
The oklad or riza, sometimes referred to as a revetment in English, is a metal cover, in this case silver, that not only protects the icon, but also serves to honor or venerate the figure(s) depicted on the icon. Oklads are usually adorned with repousse work and pierced to reveal elements of the underlying painting. This artisan truly knew how to bring silver to life in a manner that both complements and uplifts the painted imagery.
Icons (icon means "image" in Greek) are sacred objects within the Eastern Orthodox Christian tradition. Found in homes as well as churches, these painted images depict holy persons and saints as well as illustrate scenes from the Scriptures. Some icons, like this example, are also encased in precious metal covers (oklads); some are adorned with pearls and semi-precious stones or glass-fronted wooden cases (kiots). Icons are not worshiped, but are instead venerated for their ability to focus the power of an individual's prayer to God. As such they are oftentimes described as "windows into heaven."
Provenance: private Francis & Lilly Robicsek Collection, Charlotte, North Carolina, USA, acquired second half of the 20th century
All items legal to buy/sell under U.S. Statute covering cultural patrimony Code 2600, CHAPTER 14, and are guaranteed to be as described or your money back.
A Certificate of Authenticity will accompany all winning bids.
We ship worldwide and handle all shipping in-house for your convenience.
#119503
Condition
Oklad shows expected tarnish and some perforations at peripheries for attachment. Fissure down Christ's visage. On verso, are back slats, inactive insect holes, and losses as shown.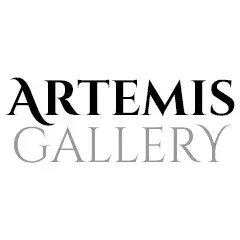 Live Auction
Start: Jun 25, 2020 10:00 EDT