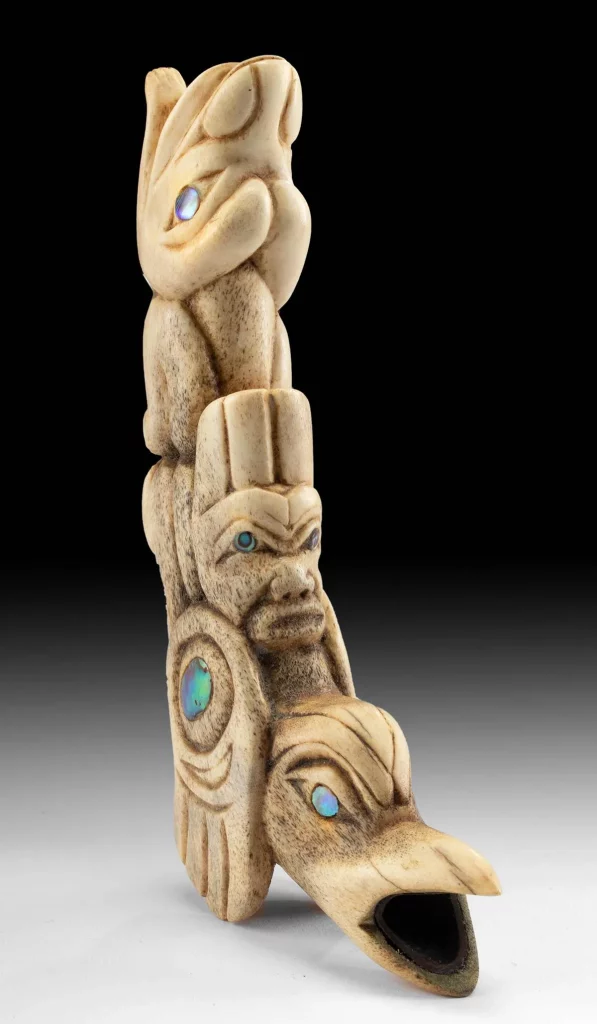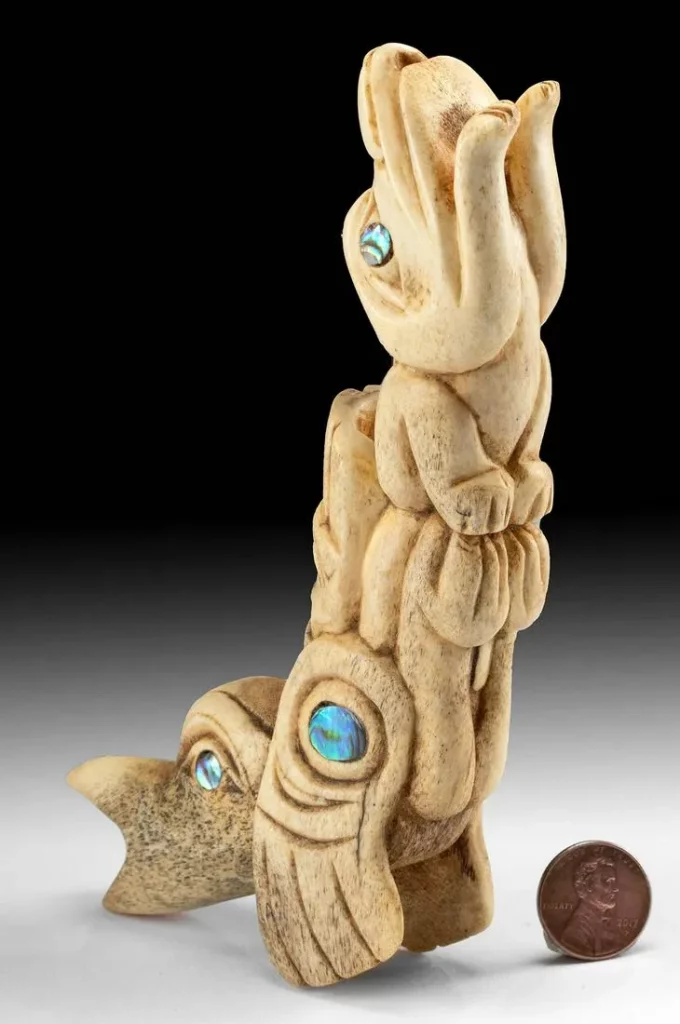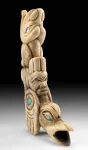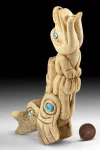 Starting: $2,000
19th C. Haida / Tlingit Bone & Nacre Totemic Pipe:
Native American, Pacific Northwest Coast, United States or Canada, Tlingit or Haida, ca. 19th to mid-20th century CE. A beautiful marine mammal bone smoking pipe in the form of totemic animals and a shaman, each figure inlaid with nacre shells. The front receptacle bowl is formed by the upturned beak of a bird, perhaps a raven, the open bill cupping a copper bowl insert. The wings are thrust forward, and a shaman's head extends from the bird's back- his ceremonial role discernible by his tall headdress that represents a ceremonial goat horn crown. Facing the opposite direction and forming the inhalation mouthpiece is a zoomorphic creature that represents a frog or other symbolic creature crouching on four legs. The carvings are in the traditional formline style, the wings of the bird displaying the classic ovoid and crescent shapes. Ceremonial smoking was believed to carry prayers into other realms carried by the smoke and aided by totemic animals or shamans, as depicted on this pipe! Size: 6″ L x 1″ W x 3″ H (15.2 cm x 2.5 cm x 7.6 cm)
Provenance: private Brevard, North Carolina, USA collection
All items legal to buy/sell under U.S. Statute covering cultural patrimony Code 2600, CHAPTER 14, and are guaranteed to be as described or your money back.
A Certificate of Authenticity will accompany all winning bids.
PLEASE NOTE: Due to recent increases of shipments being seized by Australian & German customs (even for items with pre-UNESCO provenance), we will no longer ship most antiquities and ancient Chinese art to Australia & Germany. For categories of items that are acceptable to ship to Australia or Germany, please contact us directly or work with your local customs brokerage firm.
Display stands not described as included/custom in the item description are for photography purposes only and will not be included with the item upon shipping.
#171013
Condition
Natural dark bone pitting and ossification and stable striations. Minor nicks to nacre inlays, otherwise pipe is intact and excellent. Remains smoking residue inside receptacle bowl.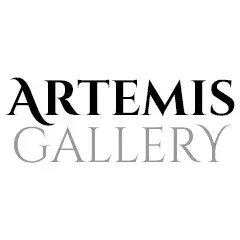 Live Auction
Start: Apr 28, 2022 10:00 EDT