Starting: $15,000
19th C. Easter Island Wood Female Figure – "Moai Papa":
South America, Chile, Easter Island, Rapa Nui people, ca. 19th century CE. An astonishing example of a hand-carved wood figure from Easter Island known as a "Moai Papa." The standing female presents a tall, flat body with delineated breasts, slender arms, and carefully carved hands with lengthy fingers resting on her bulging belly. Her fully modeled head contrasts her flat body, displaying an elongated visage of annular, inlaid shell eyes with stone pupils, a thick unibrow, a stretched nasal bridge, a broad nose, prominent cheek bones, and full lips held slightly open in a gentle smile. A pair of rectangular ears, incised with parallel striations and fit with annular ear spools flank her stylized face and an ovoid, tiered headdress sits atop her bald head. Her recessed groin displays incised genitalia, while her verso features an incised spine above an elevated ring and horizontal band that leads to the thighs. Size: 4.125″ L x 2.375″ W x 18.25″ H (10.5 cm x 6 cm x 46.4 cm); 19″ H (48.3 cm) on included custom stand.
Note the artist's careful attention to detail, as evident in her projecting collar bone, indented knee pits, and raised wrists and ankles. The petite cavities seen in the head and body indicate that this is likely an early example, made before large unblemished blocks of wood – once rare on the largely treeless island – became available through trade with Western ships.
Easter Island (Rapa Nui or Isla de Pascua) is a Chilean island located in the southeastern Pacific Ocean – at the point most southeast of the Polynesian Triangle of Oceania. Famous for its moai – colossal statues created by the Rapa Nui peoples, Easter Island became a UNESCO World Heritage Site in 1995. Scholars believe that Polynesian people settled on Easter Island between 700 and 1100 CE. They built a robust culture as the island's impressive stone moai and other artifacts suggest.
A similar example can be found at the Metropolitan Museum of Art under accession number 1979.206.1478. In their description, they state, "The word papa in the Rapa Nui language literally denotes a flat horizontal surface of volcanic rock, but it may also indirectly refer to Papa, the female personification of the earth in many Polynesian cultures. Although indisputably female, moai papa also display masculine features, including goatee beards and, typically, bald heads. The incorporation of male elements into the figures may indicate that the female deities or ancestors they likely represented were perceived as the equals of their male counterparts."
This piece has been searched against the Art Loss Register database and has been cleared. The Art Loss Register maintains the world's largest database of stolen art, collectibles, and antiques.
Provenance: private G. G. collection, Santiago, Chile; ex-private Paris, France collection
All items legal to buy/sell under U.S. Statute covering cultural patrimony Code 2600, CHAPTER 14, and are guaranteed to be as described or your money back.
A Certificate of Authenticity will accompany all winning bids.
PLEASE NOTE: Due to recent increases of shipments being seized by Australian & German customs (even for items with pre-UNESCO provenance), we will no longer ship most antiquities and ancient Chinese art to Australia & Germany. For categories of items that are acceptable to ship to Australia or Germany, please contact us directly or work with your local customs brokerage firm.
Display stands not described as included/custom in the item description are for photography purposes only and will not be included with the item upon shipping.
#166065
CONDITION
Some inactive insect holes on head, torso, upper legs, and back. Two stable fissures on back and posterior. Light abrasions to shoulder and groin. Otherwise, intact and excellent with nice patina.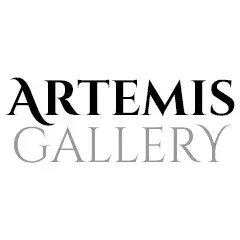 Live Auction
Start: Aug 26, 2021 10:00 EDT
End: Aug 27, 2021 05:50 EDT