Starting: $2,250
1938 American Folk Art Whirligig of Dust Bowl Era:
North America, United States, 1938. A fabulous piece of American folk art – a large whirligig/sign comprised of painted wood and metal – likely intended for a barn or farmhouse. On one side, the piece presents the year "1938" boldly delineated in black on white and flanked by a pair of American flags. On the opposite side are two endearing dancing mice along with the profile portrait head of a man, also flanked by two American flags. These metal flags – painted in their red, white, and blue glory – are also curved so as to add to their kinetic quality as the whirligig spins. At the center of the piece is a metal pole, about which the sign would have rotated in the wind, with a spherical finial that is also painted red, white, and blue. Size: 49″ W x 17″ H (124.5 cm x 43.2 cm)
Why was the year 1938 being celebrated? Quite a few major events occurred during 1938; however, given that this piece was likely used to decorate a barn or farmhouse, this grand visual statement of American pride may have been inspired by the passing of the Agricultural Adjustment Act. In February of 1938, the United States Congress passed the Second Agricultural Adjustment Act, replacing the Agricultural Adjustment Act of 1933. As part of President Franklin Delano Roosevelt's New Deal program, this Act gave price support for wheat, corn, and cotton in order to ensure regular supply during times of low production, as farmers were greatly impacted by The Great Depression and the Dust Bowl. The Second Agricultural Adjustment Act also established the Federal Crop Insurance Corporation and assured support for other crops until 1940.
Provenance: ex-House of Ancestors, Santa Fe, New Mexico, USA
All items legal to buy/sell under U.S. Statute covering cultural patrimony Code 2600, CHAPTER 14, and are guaranteed to be as described or your money back.
A Certificate of Authenticity will accompany all winning bids.
PLEASE NOTE: Due to recent increases of shipments being seized by Australian & German customs (even for items with pre-UNESCO provenance), we will no longer ship most antiquities and ancient Chinese art to Australia & Germany. For categories of items that are acceptable to ship to Australia or Germany, please contact us directly or work with your local customs brokerage firm.
Display stands not described as included/custom in the item description are for photography purposes only and will not be included with the item upon shipping.
#167028
CONDITION
There is an old repair (measuring about 2″ x 2″) in front of the man's mouth. Some age cracks, wear to pigments, and weathering as expected. Otherwise, the decorative program is still very strong, and the form is remarkably well preserved.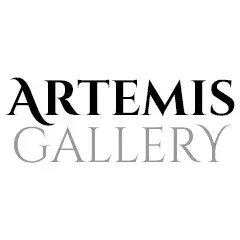 Live Auction
Start: Nov 04, 2021 10:00 EDT