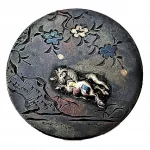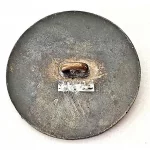 Winning Bid: $1,700
1 Of The Rarest Buttons In The Auction-a Special Horse:
1 Large 19th C. Japanese metal works button depicting a horse.
The Japanese were masters at creating works of art like this pair rare button example. This is a magnificent engraved and silver design of a horse. The button is accented with just a bit of gold inlay to give it highlights. Button collectors typically lump the Shakudo and Shibuichi examples into the same and call them all Shakudo, however, even though the technique employed is the same the metal contents are different as one has 1/4 silver content (Shibuichi) with 3/4ths copper and the other has more copper (Shakudo) with 3-6% gold alloys. This is a large and beautiful example of a bygone era.
Issued: DIVISION 1=PRE 1918 AND DIVISION 3 IS AFTER 1918
Dimensions: SM=Less than 3/4″, Medium=3/4″ to 1 1/4″. Large=1 1/4″ and above, extra large=1 3/4″ and above
Condition
Unless otherwise noted we find no significant condition concerns except for normal age related wear for the age of these items.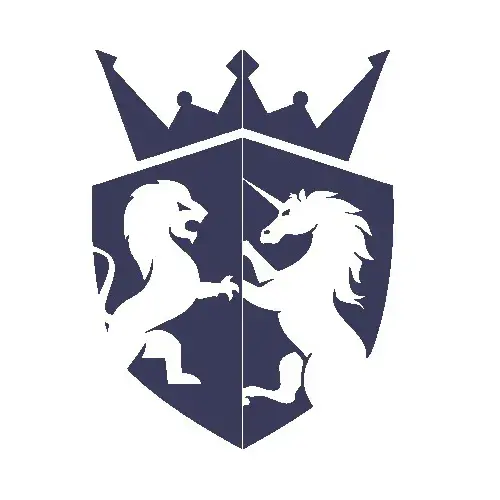 Live Auction
Start: Nov 08, 2022 09:00 EST