The Tastemaker : Susie Atkinson
The London-based interior designer discusses her signature style, meticulous eye for detail and her picks from our Interiors sale on 11 September at Christie's in London
Susie Atkinson may be the most influential interior designer you've never heard of. Since launching her eponymous London-based studio nearly 20 years ago, she's completed high-profile commercial projects for boutique hotels and private members' clubs, including the Soho House Group, Beaverbrook Hotel and Queens Tennis & Racquets Club, among others. Her portfolio of residential projects for celebrity and high-profile clients spans the globe, from Greece to the Caribbean.
She is revered in the world of interiors for her signature blend of antique and contemporary elements, and for her focus on natural materials — cottons, cashmeres, wools, linens, silks, stone and woods are integral to her blueprint aesthetic.
So is excellent craftsmanship, she tells us when we meet at Christie's King Street to discuss her forthcoming collaboration with the Interiors Including Posters sale, which takes place on 11 September. 'I have a massive appreciation for how things are made,' she reveals. 'I spend a lot of time on Instagram and at graduate art shows scouting out new talent.'
What sets Atkinson's design philosophy apart, though, is her deep interest in the 'bones of the building'. She says it's 'all about creating a balance of textures, materials, periods and colour that enhance the architecture of the space.'
No detail escapes the designer's meticulous eye: the direction of light, fixed features and the flow of a building's rooms greatly influence her curatorial approach: 'I just love the idea of creating an environment that is so beautiful, so deeply comfortable that you never want to leave.'
The designer also admits to loving nothing more than mixing old with new in thought-provoking combinations. 'Creating unexpected pairings,' she argues, 'is a way of sparking the imagination and raising a smile.'
Atkinson has curated our London Interiors Including Posters sale, creating a series of styled vignettes with pieces from the auction. She describes styling the 11 September auction, which boasts an exotic collection of lots drawn from different periods and cultures, as 'a wonderful opportunity to create a life-size cabinet of curiosities'.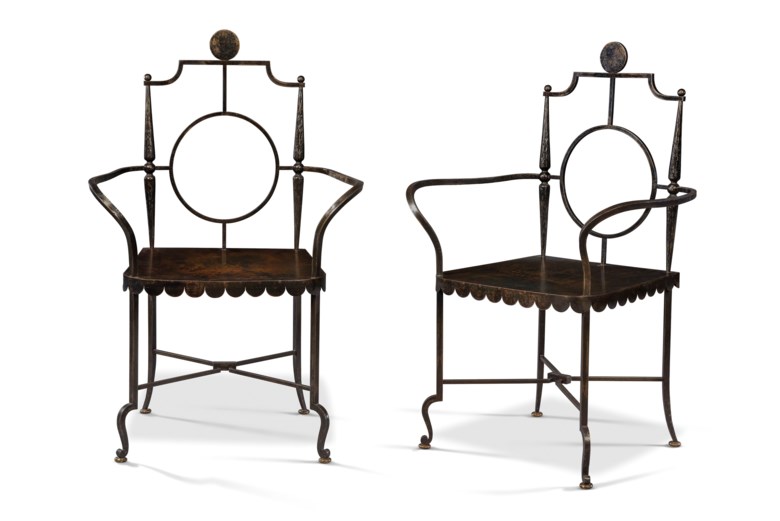 Among her favourite treasures coming to auction is a pair of French patinated-bronze armchairs, above, after the 1943 model by Gilbert Poillerat; and a French brass-mounted red leather lamp, with white shade and red stitching, dated to the second half of the 20th century.
She also admires a pair of George II mahogany small stools and an Italian reverse-painted mirror. Atkinson's particularly taken, though, by a 20th-century Nigerian Ekoi headdress made from leather, wood and basketwork. 'What stories might these pieces tell,' she muses, leafing through photographs of her styled vignettes featuring the aforementioned lots.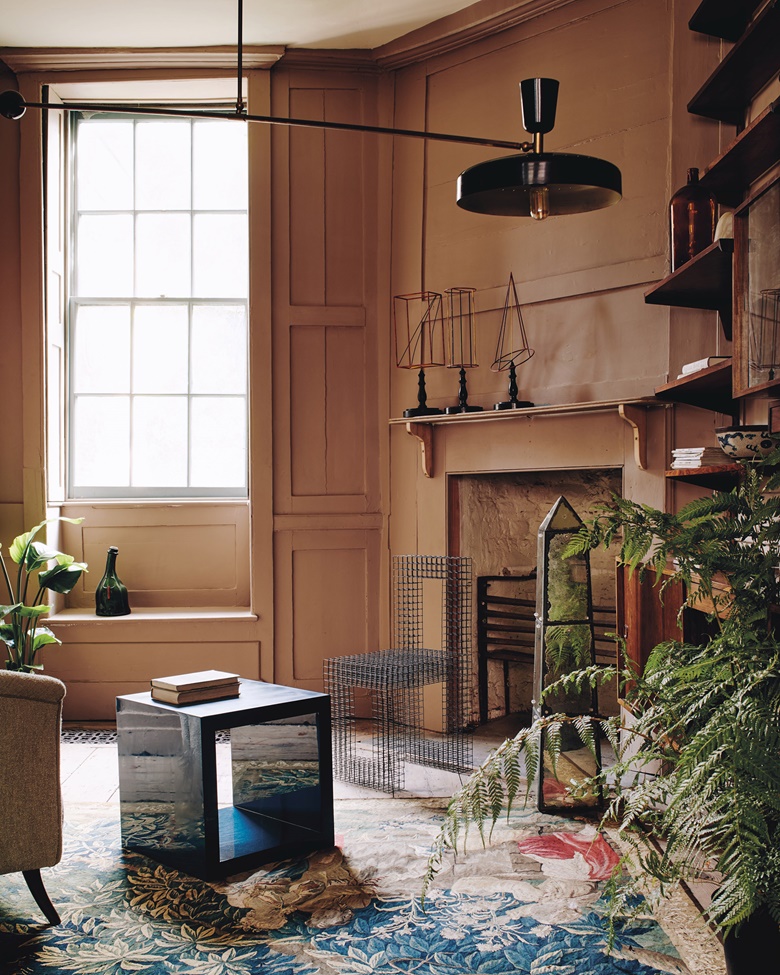 Discovering the stories behind the pieces is the part of the job that Atkinson loves the most. 'The backstory of a building can shape the vision of a project,' she explains, 'while unearthing the story behind an antique piece can give you a renewed appreciation for its history, both its makers and previous owners.'