Studio visit: Tadaaki Kuwayama and Rakuko Naito
As their separate private selling exhibitions open at Christie's in New York, husband and wife discuss sharing a working space and their very distinct artistic practices
The division between the personal and professional lives of New York-based artists Rakuko Naito and Tadaaki Kuwayama has long been blurred. For decades, the Japanese-born couple — who immigrated to Manhattan just after their marriage in 1958 — have shared a rambling mixed-use loft space in Manhattan's Chelsea neighbourhood with a common living space flanked by separate studios. 'He's over there and my studio is over here,' explains the soft-spoken Naito.
Despite their constant close proximity, Naito and Kuwayama's minimalist work remains distinct. 'He likes everything more artificially manufactured,' says Naito of her husband's mechanically produced, monochromatic works — colour studies framed in metals such as aluminium and titanium.Tadaaki Kuwayama (b. 1932), Untitled, 1971. Metallic acrylic on eight joined canvases with aluminum strip, in two parts. 96 x 100 in (243.8 x 254 cm). Estimate: $500,000. Offered in Tadaaki Kuwayama and Rakuko Naito, 8-17 January at Christie's in New York
Naito, however, prefers repetitive 'natural forms' and working with the organic fragility of materials such as Japanese rice paper, which she cuts using a knife or more often by unpredictably separating pieces with a burning stick of incense. 'I don't use scissors,' she says.
The couple have never collaborated on a work, but both agree on the impact New York has had on their creative processes. 'Japanese life is still very strict, traditional,' remarks Naito. 'I feel more freedom here, so I don't have to worry about what other people think.'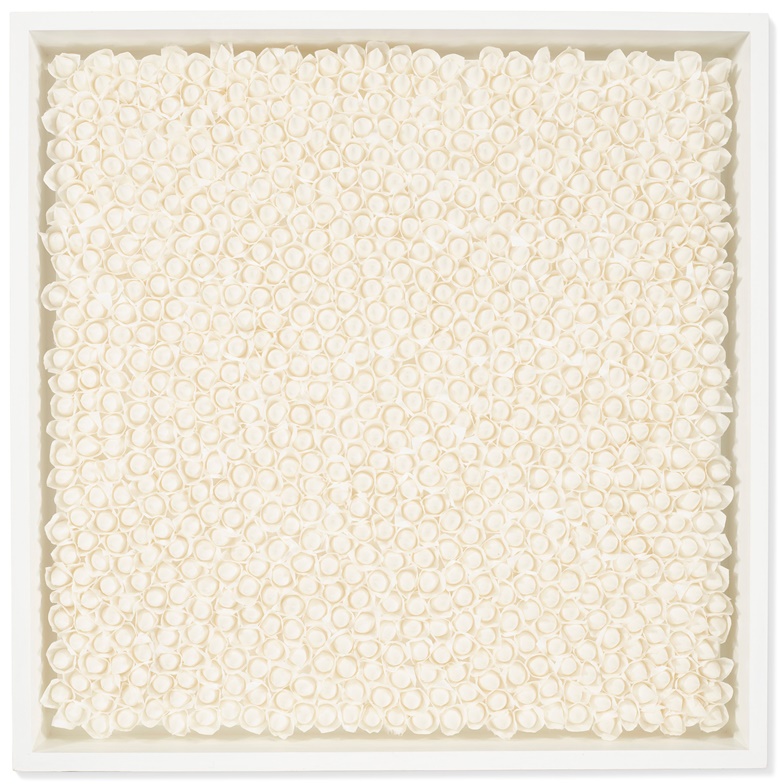 'I don't care about other cities — I wanted to be in New York,' explains Kuwayama of their decision to relocate. 'Even if I didn't know anything about New York.
'Some people say [my work] is not art,' the 88-year-old continues, 'but art is more than painting. Art is more like [what's going on in] the brain.'
Tadaaki Kuwayama
After originally studying nihonga, a traditional form of Japanese painting on paper or silk, Kuwayama abandoned the practice, finding its conventions too restrictive. Instead, he embraced the freedom of 20th-century abstraction with paintings of pure colour and form.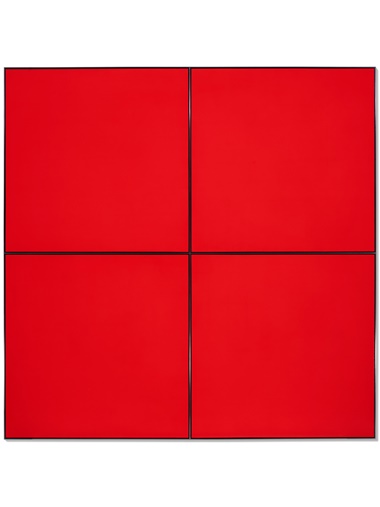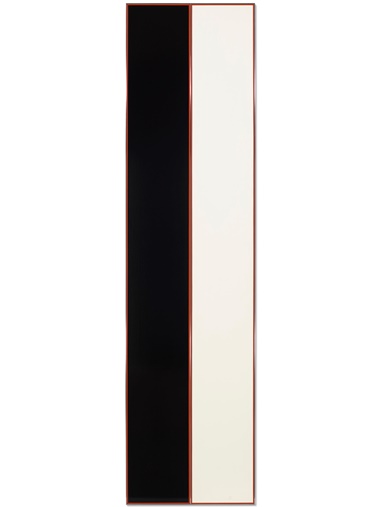 Through the decades, Kuwayama's work has evolved from three-dimensional explorations of colour in the Sixties and metallic pigment works during the Seventies to an ongoing series, 'Projects'. The series, which began in the Nineties, explores space and perception through works of slightly varying colour and dimension.
'Light and space is very important,' he remarks. 'I want people to feel something [when they see my art]. Most of my life is for art [and] nothing else.'
Rakuko Naito
Naito's practice has remained aligned with principles of order and arrangement, which can be seen in her quintessentially Japanese 'Paper' series — minimalist geometric visions in paper, wood and cotton, meticulously arranged within shallow boxes.
Just as her husband explores his craft in a broad colour palette, Naito celebrates the natural variation of white paper, the medium in which she now works most regularly.
'I don't want to paint the paper to make a colour,' she explains. 'So right now I stay with the colour of the paper. It's all white paper, but comes up differently. Some have a yellow tint, some are brown, [and] some [pieces] are more white. That is the limit of my colour now.'
Throughout the evolution of a nearly six-decade career, which has included solo exhibitions around the world, Naito has always been fascinated by how her abstract work — 'somewhere between a painting and a sculpture' — is perceived.
'I don't want to force people to see one way,' she explains. 'People have different ideas [and] it's very interesting.'
Follow