Frieze Week Highlight The Jeremy Lancaster Collection
Updated on
The Jeremy Lancaster Collection showcases some of the greatest achievements in post-war British painting, complemented by a stellar selection of European and American works. The collection will be offered in a dedicated auction on 1 October as a highlight of Christie's Frieze Week programme.
At the heart of the collection is a group of sumptuous paintings by Howard Hodgkin spanning seven decades, two paintings by Frank Auerbach, both depicting his lover Stella West, two iconic works by Philip Guston, and a majestic 'curve painting' by Bridget Riley.
A frequent traveller with a keen appetite for art and knowledge, Jeremy Lancaster was in part influenced by the exhibition A New Spirit in Painting staged at the Royal Academy of Arts in 1981. It included works by Hodgkin, Guston and Auerbach, as well as Robert Ryman, Andy Warhol, Lucian Freud, David Hockney and R.B. Kitaj, all of whom are represented in the collection.
'This beautifully curated collection charts the progress of modernism across Britain, Continental Europe and America from 1920 to 2005,' says Jussi Pylkkänen, Christie's Global President. 'Jeremy Lancaster collected with a strong personal taste as well as a keen eye for paintings. These 54 works have never been publicly exhibited together before. It promises to be a revelatory show and a spirited night in the saleroom.'
The paintings of Howard Hodgkin
Intense, beautiful and ablaze with riotous colour, the paintings of Howard Hodgkin (1932-2017) are often intimate in scale, typically painted on wood (many incorporating heavy, painted frames), and fall neatly into no artistic movement or style.
Broadly autobiographical and deeply evocative of places and people, they operate in their own abstracted language of colour and form. 'I am a representational painter, but not a painter of appearances,' Hodgkin once said. 'I paint representational pictures of emotional states.'
At the heart of The Jeremy Lancaster Collection is a group of paintings by Hodgkin spanning more than half a century. Jeremy had 'an enduring enthusiasm' for the painter, recalls the architect Richard Slawson, a close friend of the collector who encouraged him to acquire one of his first Hodgkin works from the artist's New York dealer. 'The wide range of [Jeremy's] paintings can be seen as illustrating much of the artist's working life.'
Tea Party in America is the earliest Hodgkin painting in the collection, executed in 1948 when the artist was just a teenager. Its chorus of bright colours betrays the early chromatic influence of the Abstract Expressionists, whose work Hodgkin saw during his early trips to the United States.
In the 1960s, Hodgkin turned his attention to portraiture. Painted in 1966, Mrs C exemplifies the artist's daring approach to the genre. The subject takes the form of round, interlocking shapes in lavender, yellow and pale green, and is set among a red and blue field of Hodgkin's dappled brush marks.
It was not until the 1970s, however, that Hodgkin began to enjoy major commercial success. The figurative description diminishes and his signature repertoire of stippled dots, splotches, commas, rainfall-like drips and long, broad brushstrokes in jewel-like hues comes to dominate.
Outstanding works from the period include Lawson, Underwood & Sleep(1977-80), a highlight of the artist's major 2018 retrospective Absent Friends at the National Portrait Gallery in London; and Bombay Sunset (1972-73), which was exhibited in Hodgkin's British Pavilion exhibition for the 41st Venice Biennale in 1984, and was once in the collection of the British collector and patron E.J. Power.
The colours and landscapes of India inspired many of Hodgkin's most vibrant paintings. So too did those of Venice. When 40 of his paintings were shown there for the 1984 Biennale, the artist hung them on walls painted in his favourite eau de nil green to diffuse the shimmering light of the lagoon outside. Painted in 1989, Venice Sunset makes use of that same liquid hue.
In his later years, Hodgkin began to work with a greater economy and immediacy. While precise memories remained his starting point, his paintings underwent less arduous revision, as exemplified by Flowerpiece (2004-2005).
Jeremy Lancaster
'There were many qualities to admire about Jeremy,' says art dealer Sir Thomas Lighton, who goes on to list 'his integrity, his unfailing courtesy, but also his determination and decisiveness.'
Born in Solihull in the British Midlands in 1936, Lancaster spent his youth devouring philosophy, military theory and Russian novels. He went on to read English and History at Christ Church, Oxford, where he met Serena, his future wife. In 1961 he followed his father to Wolseley, where he oversaw the rapid growth of the company that had been founded in 1887, and which would go on to become the world's largest distributor of heating and plumbing products.
In the 1970s, following the birth of their four children, the couple moved to Cheltenham on the edge of the Cotswolds. The sculptor Nick Stephens — a former classmate of David Hockney — lived next door. Stephens and Lancaster struck up a close friendship, with the former introducing the latter to the art world.
Lancaster became a highly successful FTSE-100 chief executive, but guarded his privacy and enjoyed making himself seem ordinary. His taste in 20th-century art was anything but, however, and over the years he honed his interests, visiting every exhibition he could and travelling widely in search of new discoveries.
According to Richard Slawson, the family home in Gloucestershire provided 'a warm and welcoming background in which the pictures were crowded, sometimes with curious conjunctions, but to colourful and striking effect.' Slawson recalls Serena's 'amused tolerance of the constraints upon the family budget... in order that a painting might be bought.'
The Lancasters lived with their art, with Jeremy keeping meticulous handwritten records of every acquisition, noting literature references and important information he had unearthed during his research. The same attention to detail is palpable in the works he bought, many of which were acquired through the gallery of Leslie Waddington, and stand among the finest of their kind.
'During my time at Waddington Galleries Jeremy was a frequent visitor,' recalls Lighton. 'He would normally arrive in the late afternoon… come down to one of the viewing rooms, have a cup of tea, and quietly look at newly arrived works, and he really looked at them with an eye that was both knowledgeable and inquisitive. Occasionally something caught his eye that he felt he must have.'
A trustee of the Barber Institute of Fine Arts in Birmingham, the Ikon Gallery of contemporary art and the biennial Artes Mundi prize in Cardiff, Jeremy Lancaster was also West Midlands chairman of the National Trust and a council member at the University of Birmingham, where his father had been pro-chancellor.
A snapshot of a thriving cultural scene
Many of the works in The Jeremy Lancaster Collection have passed through illustrious collections, including those of E.J. Power, Charles Saatchi, the architect Colin St John Wilson, and the celebrated critic Herbert Read.
Such provenance is testament not only to a shared championing of the London art world, but also to the cultural exchange with the European and American avant-gardes in which Leslie Waddington and his clients — including Jeremy Lancaster — played such a vital role.
It is no coincidence that Lancaster's collecting gathered pace around the same time as the Royal Academy's 1981 show A New Spirit in Painting marked an important resurgence of international interest in the medium.
In particular, Howard Hodgkin's translation of observable things into expressions of emotional reality worked in dialogue with a number of the collection's European still life paintings, including Giorgio Morandi's monastically poised Natura morta (1946), Picasso's sunlit, intimate tribute to his studioL'Atelier (1958), and Nicolas de Staël's near-abstract Nature Morte au Fond Jaune (1952).
Other continental highlights from the collection include two works by Jean Dubuffet: Trois femmes nues au bois (1942), which was owned for almost 50 years by his great friend Georges Limbour, and Recensement (Census) (1979). The latter, from the artist's collaged 'Théâtres de mémoire' series, provided an intriguing counterpart to the treatment of memory in Hodgkin's works.
From across the Atlantic, meanwhile, came Philip Guston's arresting Language I (1973) and Untitled (Two Hooded Figures) (1969), originally gifted by the artist to the famed critic Harold Rosenberg.
Even the collection's most cerebral works formed an array of optical joy. Patrick Caulfield's pop-inflected View of the Ruins (1964) has a particular edge of Sixties cool, having first been sold by Robert Fraser, the suave gallerist who epitomised Swinging London. Josef Albers' Study for Homage to the Square: Red Tetrachord (1962) is a magnificent large-scale example of the artist's most renowned series. Robert Ryman's Courier (1982), once part of Charles Saatchi's masterful collection of Minimalist works, deconstructs painting to a serene white tabula rasa of ground and support.
Lancaster would lend important works to Birmingham's Ikon Gallery, City Art Gallery and Barber Institute of Fine Arts, as well as making long-term loans to institutions including the Ashmolean and Fitzwilliam Museums in Oxford and Cambridge.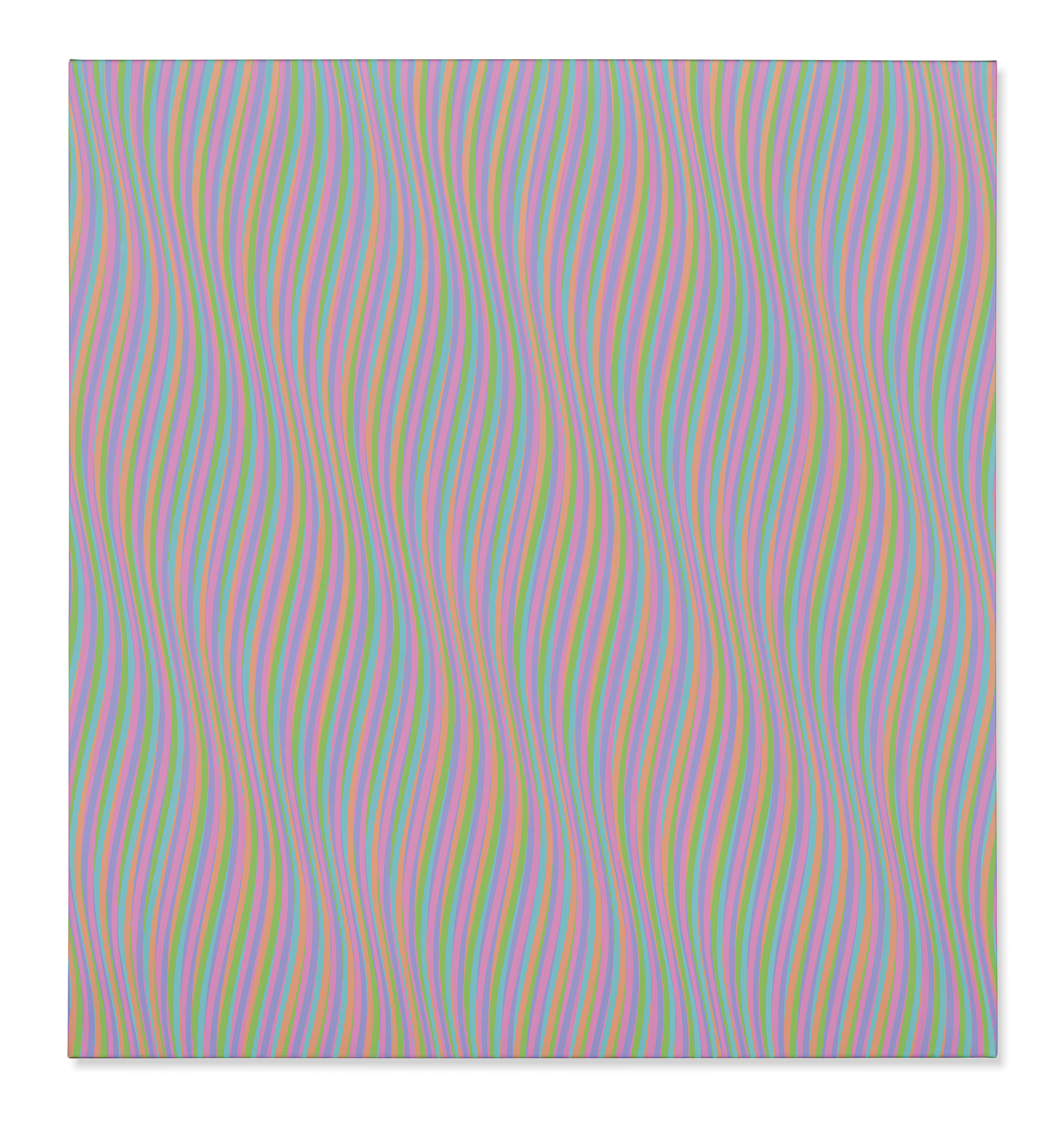 Bridget Riley, Orphean Elegy 7
Bridget Riley (b. 1931) is surely Britain's greatest living abstract artist, and Orphean Elegy 7 (1979) is a shimmering fusion of colour, rhythm and form that stems from one of her most important series.
Painted in conjunction with her Songs of Orpheus, Riley's Orphean Elegies marked the culmination of her 'lyrical' period. Between 1974 and 1981, the artist devoted herself almost exclusively to curved structures, producing canvases described as 'some of the most serene and emotionally radiant that she has ever painted'.
The subject of a major retrospective at the Scottish National Gallery in Edinburgh, which is transferring to the Hayward Gallery in London, Riley first emerged during the 1960s as a key exponent of Op Art. Over six decades she has probed the retinal and psychological effects of colour, observing the interaction between tonalities when aligned in different combinations.
The curve first appeared in Riley's practice in the 1961 canvas Kiss, recurring in colour in the 1967 Cataract series. It was not until 1974, however, that Riley began to investigate its potential in earnest, eventually wrapping the colours around one another to create complex patterns of tonality and movement.
Philip Guston, Language 1
Painted during Philip Guston's prolific final decade, Language I (1973) is a vibrant example of the artist's unmistakable figurative idiom. Vivid and inscrutable, the gathered forms appear like the sculptural remnants of some lost civilisation, a Tower of Babel in an existential landscape revealed to the artist as he peers over his canvas.
Guston enjoyed great acclaim as part of the Abstract Expressionist vanguard in 1950s and early 1960s New York, but confounded critics with his sudden turn to esoteric figuration in 1968.
Partly a response to the increasingly turbulent political climate of America, these late works were also concerned with painting's capacity for narrative, and saw Guston take an almost linguistic approach to the objects he saw around him and incorporated into his pictures.
'I must have done hundreds of paintings of shoes, books, hands, buildings and cars, just everyday objects,' Guston said in 1978. 'And the more I did the more mysterious these objects became. The visible world, I think, is abstract and mysterious enough, I don't think one needs to depart from it in order to make art.'
Frank Auerbach, Head of E.O.W.
Head of E.O.W. is an intense and extraordinary vision. Turbulent layers of ochre and umber form the head of Stella West, Frank Auerbach's lover; the paint is sculpturally dense, accumulated over hundreds of sittings to convey the very essence of her physical being.
For all its plaque-like materiality, this remains a painting rather than a sculptural relief, and from its darkness shines the astonishing punch of psychological insight and singleness of vision that characterise Auerbach's most powerful work.
Stella West was the subject of the majority of Auerbach's figure paintings from the late 1940s until the early 1970s. They met in 1948, when Auerbach was 17 years old and she was 32, and soon became lovers.
By the early 1950s, two-hour sittings were taking place three nights a week. Auerbach worked slowly and irascibly and the sittings would become more and more challenging. A portrait could take hundreds of sessions to complete.
West felt a profound sense of collaboration in the process. 'I realised there was some telepathy,' she said, 'some actual communication between us when he was painting me.'
Coming soon: a special showcase of the Howard Hodgkin works in The Jeremy Lancaster Collection