Art for Future: Selected Works from the UniCredit Group
Updated on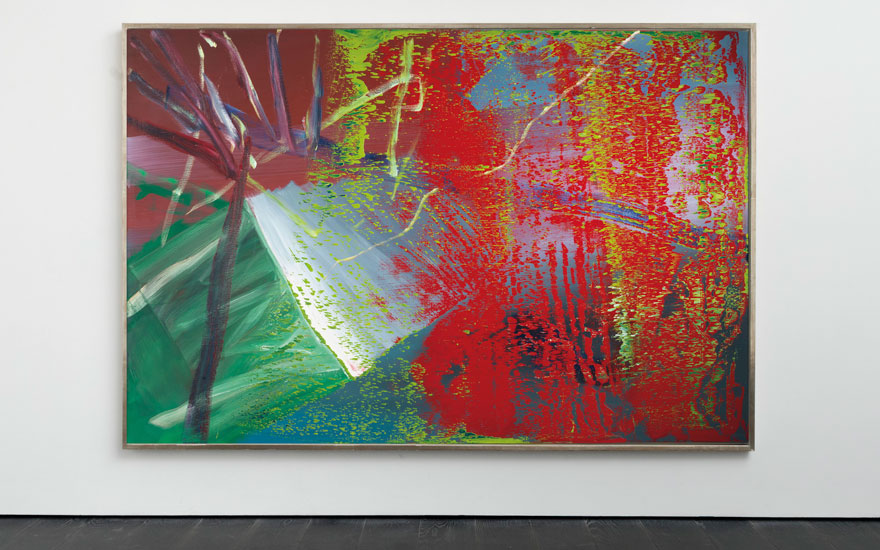 A selection of UniCredit's artworks will be offered as a highlight of Frieze Week at Christie's. The proceeds will be used primarily to support the further roll-out of the group's Social Impact Banking initiatives
Selected artworks from the UniCredit Group will be sold in a number of auctions across categories in 2019 and 2020, with the first group offered in London as part of Frieze Week at Christie's on 4 and 5 October. These will include works by Gerhard Richter, Yves Klein, Ernst Wilhelm Nay, Andreas Gursky, Enrico Castellani, Sam Francis and Nam June Paik among others.
Further works from the UniCredit Group will be offered across Christie's global salerooms, inlcuding Amsterdam on 25 and 26 November and in Milan in 2020.
Highlights from the UniCredit Group
Leading the Post-War and Contemporary Art Evening Auction in London is Gerhard Richter's Abstraktes Bild, dating to 1984, a pivotal year in Richter's career. At three metres wide and two metres high, Abstraktes Bild is one of the largest canvases the artist produced for his landmark 1984 exhibition in Dusseldorf, Von hier aus — Zwei Monate neue deutsche Kunst, curated by German museum director and curator Kasper König. According to Dietmar Elger, the author of Richter's catalogue raisonné, it was with these canvases that Richter 'finally succeeded in breaking through to the international art market'.

Richter layers vibrant red and green paint over a smooth ground of shifting chromatic colours. Thick horizontal and vertical beams punctuate the surface, interspersed with flashes of brilliant white. This monumental composition with its fractured, textured surface demonstrates Richter's attraction towards free, large-scale abstraction.
Although Richter had been experimenting with an abstract style since 1976, it was not until the early 1980s that he made the breakthrough transition to large-scale abstract painting. It was within this context that he sought to establish pigment as subject matter in its own right.
Richter's Wiese (Meadow) (1983), above, which will also be offered in the Post-War and Contemporary Art Evening Sale, is an exquisite example of the celebrated photo-realist German landscapes that Richter produced during the 1980s. It is the second work within this extraordinary cycle, and a sister painting to Scheune (Barn) no. 549/1, now in the collection of the Art Gallery of Ontario. Following on from his 'Cloudscapes' and 'Seascapes' of the late 1960s, this series represents the culmination of Richter's conceptual engagement with the Romantic tradition of landscape painting.
Based on one of the artist's own photographs taken in the Bavarian Forest, Wiese (Meadow) can be interpreted as a nostalgic lament for painting's lost innocence. Richter's return to photorealism in the 1980s, at a time when his abstract works were becoming increasingly complex, demonstrates his lack of distinction between the two modes.
Also coming to auction is Yves Klein's Sculpture-éponge bleue sans titre, (SE 244), above, one of the artist's pioneering sponge sculptures from 1959, the year in which he exhibited a selection of these extraordinary creations alongside his blue monochromes at Galerie Iris Clert in Paris.
Saturated with the artist's patented pigment, International Klein Blue, otherwise known as IKB, the sponge appears to bloom from its support like an organic coral formation. Pierced by a single hole, in a manner evocative of Lucio Fontana's contemporaneous buchi and tagli (hole and slash paintings), it allows light to penetrate its dark interior, illuminating its folds and crevices.
IKB played a definitive role in Klein's oeuvre, taking its place within his holy chromatic trinity of blue, gold and madder rose. Having grown up surrounded by the deep azure of the Mediterranean, Klein considered blue to be the most immaterial, abstract and sensory of all hues.
The present work was included in Klein's major retrospective at the Centre Georges Pompidou in Paris in 1983, as well as his touring retrospective at the Schirn Kunsthalle Frankfurt and the Guggenheim Museum Bilbao in 2004-05.
Highlights from the Post-War and Contemporary Art Day Auction in London include Gerhard Richter's 7.3.86 from 1986; Helle Girlande (Bright Garland) (1957), above, by German post-war painter Ernst Wilhelm Nay; Nam June Paik's Anonymous Crimean Tartar Who Saved Life of Joseph Beuys — Not Yet Thanked by German Folks, a large-scale robot made from television tubes and headlights in 1993; Erotic arabesque (1987), below, by Sam Francis; and Andreas Gursky's 1998 chromogenic print of an ecstatic crowd, May Day III. Enrico Castellani's Superficie bianca, a white relief painting from 1989 (shown above), will be offered on 4 October in the Thinking Italian auction.
Proceeds from the sales will support the further roll-out of the group's Social Impact Banking (SIB) initiatives. The remaining balance will be dedicated to other relevant projects, including the support of young artists.
Social Impact Banking is part of UniCredit's commitment to building a fairer and more inclusive society, and seeks to identify, finance and promote people and companies that can have a positive social impact. As well as continuing to provide credit to projects and organisations not usually served by the traditional banking sector, UniCredit employees educate micro-entrepreneurs, social enterprises and vulnerable or disadvantaged groups, building valuable networks within our communities.